2019-2020 ACE Mentor Kickoff Meeting - September 19, 2019
September 19th, 2019 8:10 AM through 9:50 AM
Metro Campus Center in Room 201

The ACE Mentor Program of Cleveland provides mentoring and engagement with Cleveland Metropolitan School District high school students in project based learning in architecture, construction and engineering industries.
ACE relies upon committed, energetic mentor participation from Cleveland's leading design, engineering, and construction firms. By acting as professional role models, these mentors make a significant contribution to the community, while helping to develop the professionals who will lead tomorrow's building industry.
To register for this session, complete the ACE national online database registration: https://app.acementor.org/login. If you are a new mentor, create a new account to complete the registration. If you are a returning mentor, log in to your account and complete the registration for the 2019-2020 ACE year.

This year's Mentor Kick-Off will be held at Tri-C's Metro Campus Center in Room 201.
Parking: Park in Lot 5, near the corner of East 30th Street and Woodland Avenue. After parking in Lot 5, participants should walk north towards the South Concourse (also noted on map below). Once they enter the concourse, walk east towards the Campus Center building. The stairway and elevator are on the north side of the building.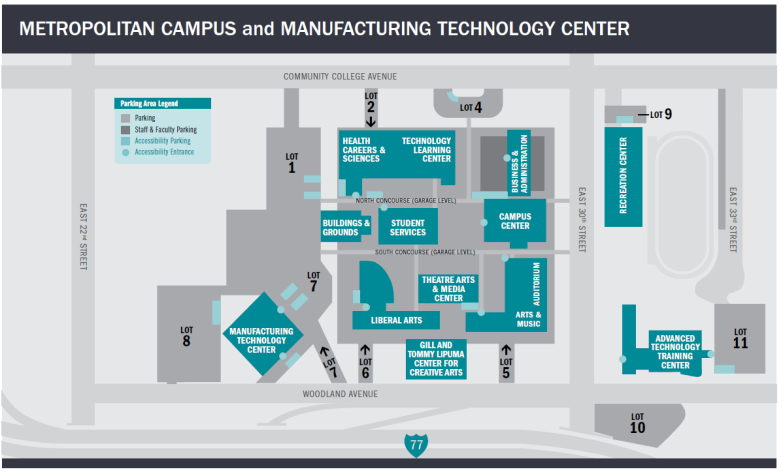 Other topics covered at this session will include:
Introduction of this year's RFP
Resources available
"Lessons Learned" for new mentors
Review of 2019-2020 ACE Cleveland calendar
Registration and participation information
The 2019 - 2020 ACE Program is September 2019 - May 2020, afternoons (after school) and a few Saturday sessions, interacting with students.