Submitted by Katie Schuerger on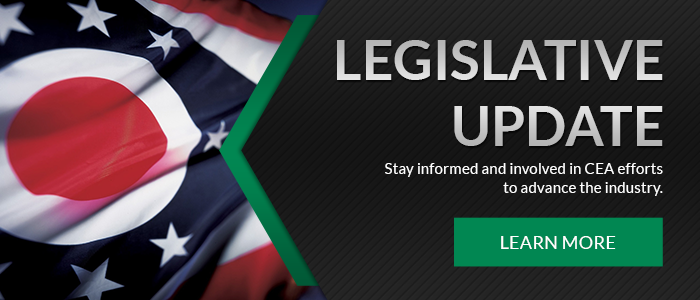 Introduction:
State legislative committees will likely be steady up until primary season. Here are few of the issues CEA is working on.
Unemployment Compensation Reform
The Ohio House continues to hold hearings on two unemployment compensation bills HB 382 and HJR 4. Many of these hearings have not yielded anyone testifying at them. The House Government Accountability & Oversight Committee had its 11th and 12th hearings this week. CEA continues outreach to legislators and coordination with other groups to advocate for changes that are fair to the construction industry.
HB 382 (Schuring) modifies terms describing payments made under the Unemployment Compensation Law, increases the amount of wages subject to unemployment compensation premiums, requires qualifying employees to make payments to the Unemployment Compensation Insurance Fund, allows the Director of Job and Family Services to adjust maximum weekly benefit amounts, reduces the maximum number of benefit weeks, and makes other changes to the Unemployment Compensation Law.
HJR 4 (Schuring) The resolution would propose to enact Section 2t of Article VIII of the Constitution of the State of Ohio to allow the General Assembly to provide by law for the issuance of bonds to pay unemployment compensation benefits when the fund created for that purpose is or will be depleted or to repay outstanding advances made by the federal government to the unemployment compensation program.
Capital Bill
While the bricks and mortar bill has not yet been introduced, Senate President Obhof mentioned he sees there being less community projects in the upcoming capital bill. He is looking for projects that have more of a wide reaching impact on a region or statewide project benefits. CEA has made legislators aware that we would like to see a clean bill without anti -labor or anti- construction language that has been included into capital bills in the past.
CEA Driven Self Insuring Bill Introduced
HB 459, introduced by Michael Henne, would allow the Administrator of Workers' Compensation to grant self-insuring status to a group of employers. Prior to introduction, CEA worked with Rep. Henne on the bill draft.
The legislation received its first hearing on Wednesday, January 24th before the House Insurance Committee.
Rep. Henne's testimony and an analysis of the bill are attached.
The focus of testimony was to give a background on self insured policy, state the benefits of self insured groups, mention how associations have various insurance / benefits plans except in the case of BWC, mention that other states are doing this and leaving Ohio behind.
To learn more about this bill, please contact Glen Shumate at glen@ceacisp.org.
CEA Visits Development Director
CEA was pleased to have met with Cuyahoga County Economic Development Director Ted Carter and his key staff. This was a good opportunity for CEA to explain how its efforts in training, workforce, and inclusion aid this region and the State. CEA also used this opportunity to discuss issues that impact Ohio such as prevailing wage, right to work, and other construction related topics.
BWC Private Employer Rates To Be Cut
The administration at the Bureau of Workers' Compensation proposed to its board of directors that private employer premium rates be cut by 12% starting July 1 – a move that would save businesses $163. 5 million compared to current rates.
"Ohio is in an outstanding position as the cost of workers' comp coverage continues to fall, thanks to fewer workplace injury claims and slow-to-moderate growth in medical inflation," BWC Administrator/CEO Sarah Morrison said in a statement. "We know the less employers spend on premiums, the more they can invest in their communities and in safer work environments for their employees. And when that happens, we all benefit." The bureau said rates are already at their lowest point in more than four decades. The board will vote Feb. 23 on the proposal.
Ohio Fire Code Training Dates Released
The Ohio Department of Commerce's Division of State Fire Marshal will be holding a series of six, day-long, free training courses throughout the state regarding the new 2017 Ohio Fire Code (OFC), which became effective December 15, 2017.
These courses will be open to the public and will focus on new code enforcement processes, updated special provisions of the OFC and important national model code changes that are incorporated into the 2017 OFC. The live, interactive seminars will begin at 9:00 a.m. (with registration beginning at 8:00 a.m.) and will conclude at 4:00 p.m. as follows:
Central: Wednesday, March 14, 2018
Division of State Fire Marshal
Multipurpose Room
8895 East Main Street
Reynoldsburg, OH 43068
Northwest: Tuesday, March 20, 2018
Owens Community College, Findlay Campus
Multipurpose Room (117)
3200 Bright Road
Findlay, OH 45840
Northeast: Tuesday, March 27, 2018
Cuyahoga Community College (Tri-C) - Parma
Western Campus Theater
1100 Pleasant Valley Road
Parma, OH 44130
Central: Friday, April 13, 2018
Division of State Fire Marshal
Multipurpose Room
8895 East Main Street
Reynoldsburg, OH 43068