Submitted by Katie Schuerger on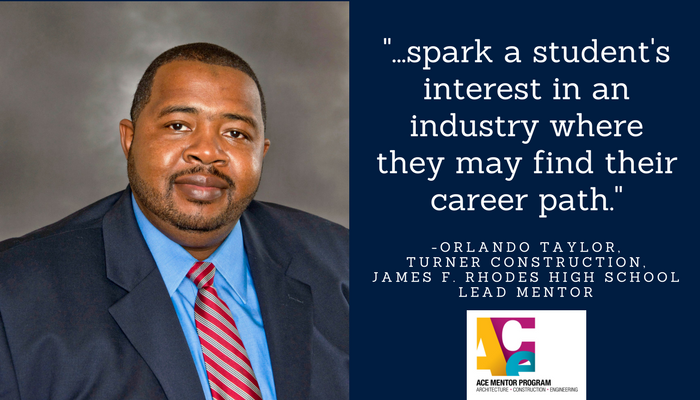 "Orlando was one of my mentors while I was in ACE, and he was always challenging and engaging the students to be the best they can be. I specifically remember times when Orlando would give me or my fellow students a problem we had to solve, and while it seemed difficult at the time, it was a big help for when I started working in the construction industry. Orlando has this way of seeing attributes in people they may not see yet and helping the students discover them. I certainly have him to thank for helping to spark my interest in construction." -Taylor Watson, Class of 2015
Orlando Taylor is a Senior Project Manager with Turner Construction. He has been an ACE Cleveland mentor for 7 years, and currently mentors at James Ford Rhodes High School.
Why did you become involved with ACE?
ACE is a great way to be an active community partner. It goes beyond, scholarships, field trips, and food. It provides the opportunity to possibly spark a student's interest in an industry where they may find their career path.
What are the best aspects about working with youth and the program?
There is a mutual motivation that happens when working with the student's. They are challenged to implement new learning into a professional styled response and then present their solution to the largest mass of people that most of them have ever been in front of. The results are consistently inspiring. There is a satisfaction of accomplishment from the students doing something that they have never done before. This same pride is realized by the mentors by imparting new or further developing career building skill sets in the students.
What is unique about your experience? What has surprised you?
I have some awareness of the circumstances of the students as I am a graduate of CMSD. Every year there are those students who set themselves apart by their drive and passion to deliver a project to the best of their abilities. You can see the potential of what can be if they align their ability with a career path that motivates them to be their best, regardless of what perceived inequities they have as a launching point.
What do you love about the ACE program?
The opportunities that are provided to the students in the regards to exposure to possible careers, scholarships, and academic and interpersonal skill development.
How do you spend your time outside of work?
Activities with friends and family.