Bernie Weir - Guardian Award 2016
CEO, ret. - Norris Brothers Company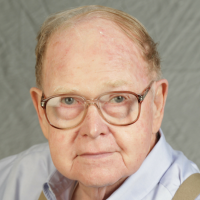 Not everyone can join a near-century old company and improve it. Bernie Weir did just that, starting in 1953 as a freshly minted college graduate when he went to work for the Norris Brothers. Co., a company founded by his great-grandfather in 1867.
Bernie was well equipped to guide Norris Brothers — both in the field and in the office — into a new era during a time when the construction industry itself was evolving from rough and tumble to sophisticated. His career in construction began when, as a 20-year old college student, he signed on with Local 45 as an apprentice bricklayer. After his graduation in 1953, Bernie went to work learning all aspects of the rigging business through hands-on application. Starting in the field, he progressed over time to field superintendent, estimator, and project manager. By the time he became CEO in 1977, he was ready.
As CEO, Bernie never relegated himself to the front office. His protégé, Bruce DE Marco, remembers Bernie as an active leader, a teacher, a listener. Such attributes, he recalls, enabled Bernie to coach his employees in a manner that enabled them to reach their full potential as contributors. Rather than criticize an employee for a mistake, Bernie sat with them, mostly listening, and let them discover through the conversation how they might better have handled the situation. Not surprisingly, this approach generated great company loyalty.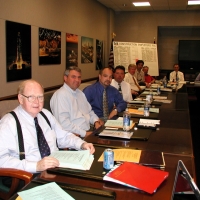 Bernie's concern for workers could especially be seen in the area of worker safety. He co-founded the Construction Substance Abuse Program [CISAP], Cleveland's first substance abuse program for construction. His work with CISAP typified his belief that contractors should contribute to the industry as a whole.
Bernie's many years of service as a CEA trustee included three years as president [1991-1994]. He also served CEA as trustee representative to the Ohio Carpenters' Hospitalization and Pension Funds, and the Cement Masons Local 404 Joint Apprenticeship Committee.
Additionally, Bernie was president of the Millwright Employers Association for more than twenty years. He was also very active in the Washington DC-based National Erectors Association, known today as The Association of Union Contractors [TAUC].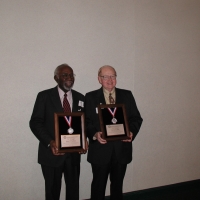 The respect his peers had for Bernie's knowledge and work ethic is reflected in his many years of service as CEA representative as a standing member of various ANSI B-30 committees. The American National Standards Institute [ANSI] is comprised of industry professionals who develop and promote the rules, standards, and definitions upon which OSHA bases its enforcement policies.