Press Room
Please contact Tim Linville for all press inquiries, at (216) 398-9860 or tim@ceacisp.org.
News Releases
Construction Industry Adds 158,000 Workers In June But Infrastructure Jobs Decline
July 2, 2020
Gains in June are Concentrated in Homebuilding as State and Local Governments Postpone or Cancel Roads and Other Projects in Face of Looming Budget Deficits; Association Urges Prompt Federal Action
Construction employment increased by 158,000 jobs in June, but employment related to infrastructure slipped, according to an analysis by the Associated General Contractors of America of government data released today. Association officials cautioned that additional infrastructure-building job losses are inevitable unless the federal government replenishes depleted state and local budgets for roads and other public works.
"The gain in construction employment in June was concentrated in homebuilding, with scattered increases in nonresidential building, while heavy and civil engineering construction employment—the category that includes many highway and other infrastructure workers—shrank by nearly 10,000 jobs," said Ken Simonson, the association's chief economist. "Unfortunately, those infrastructure-related jobs are likely to keep declining as state and local governments postpone or cancel projects in order to cover the huge budget deficits they are facing in the fiscal year that began for many agencies on July 1."
Simonson noted that the association's latest survey, conducted June 9-17, found that almost one out of three contractors reported a project that was scheduled to start in June or later had been canceled. He added only one-fifth of firms reported winning new or expanded projects, a share that had held steady since April.
Despite adding 158,000 jobs in June and 453,000 jobs in May, construction employment in June remained 330,000 jobs or 4.4 percent below the June 2019 level. The heavy and civil engineering construction segment of the industry lost 9,700 jobs in June and 60,100 jobs (-5.6 percent) over the year. Nonresidential building construction employment increased by 13,100 for the month but declined by 47,000 jobs (-5.5 percent) over 12 months. Employment among nonresidential specialty trade contractors rose by 71, 300 in June but decreased by 140,000 (-5.2 percent) from a year earlier.
Job losses were milder in the residential side of construction. Residential building firms added 19,100 employees in June but lost 21,000 positions (-2.6 percent) over 12 months. Residential specialty trade contractors added 64,100 employees last month but lost 63,000 workers (-3.0 percent) over the year.
The industry's unemployment rate in June was 10.1 percent, with 962,000 former construction workers idled. These figures were two and one-half times as high as in June 2019 and were the highest June levels since 2012.
Association officials said the best way to avoid the expected future construction job losses is for federal officials to quickly enact and implement funding for infrastructure, including highway, bridges, waterways and airports. They noted that the Moving Forward Act passed by the U.S. House of Representatives on Wednesday was a first step in that direction but that a more bipartisan approach is needed for funding to become law.
"We urge officials of both parties, both sides of Capitol Hill, and the Administration to come together promptly on meaningful increases in infrastructure funding," said Stephen E. Sandherr, the association's chief executive officer. "Without quick action, the job gains of the past two months will be lost, along with the opportunity to start on improving the nation's infrastructure at a time when labor availability is high and materials and borrowing costs are low."
CEA's Statement on Racial Equality
CEA is committed to improving diversity and inclusion within the construction industry in Northeast Ohio. While we do this work every day, in light of recent events and the public discourse surrounding issues of racial justice, we wanted to once more share our commitment to diversity and inclusion.
Below is a statement that our Board of Directors has issued, as well as a fact sheet summarizing some of our efforts designed to help improve diversity, create a more inclusive environment in the construction industry and help remove the barriers many in our community face.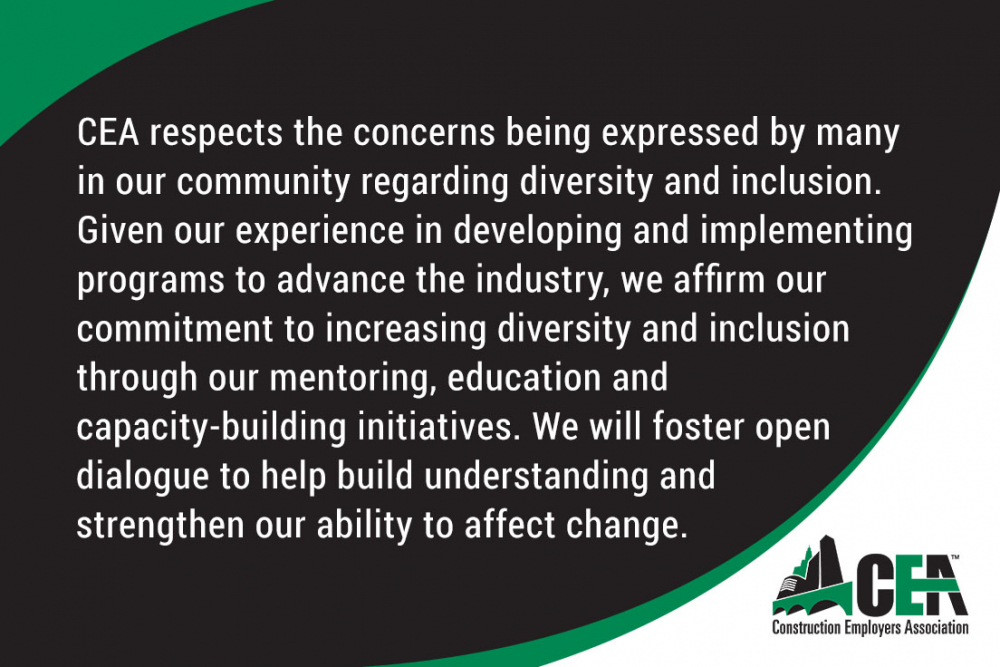 New Data Shows Construction Activity Returning To Pre-Coronavirus Levels In Many Parts Of The Country 
A new survey by the Associated General Contractors of America and data from construction technology firm Procore show that construction activity is returning to pre-coronavirus levels in many parts of the country and some firms are adding workers. The new economic data, however, also shows some future projects are being canceled and many others are being delayed by supply chain issues and labor shortages, underscoring the need for additional federal recovery measures, association officials noted.
"Many of the immediate economic impacts of the coronavirus have passed and, as a result, activity and hiring are up, a bit," said Ken Simonson, the association's chief economist. "But while the immediate crisis appears to have passed, we are just now beginning to appreciate some of the longer-term impacts of the pandemic on the industry."
Construction activity has returned to pre-coronavirus levels in 34 states, based on data on workers' hours analyzed by Procore. And construction has returned to pre-coronavirus levels in Dallas and Miami, according to Procore's data on 8 large metro areas. Meanwhile, the association's survey found that only 8 percent of construction firms were forced to furlough or lay off workers in June while 21 percent report adding employees, compared to one-in-four firms letting workers go between March and May.
"But it is important to remember that construction activity typically increases quite a bit between March 1 and the end of May as the weather improves and more work gets underway," Simonson commented. "Getting to March 1 levels is a sign of progress, but it doesn't mean things are back to normal."
Simonson added that the AGC survey and Procore's data show the severe toll the pandemic took on the construction industry. For example, 61 percent of firms report having had at least one project halted or canceled because of the pandemic. One in four firms report that construction materials shortages, caused by lock downs and trade disruptions, are causing delays on current projects. Meanwhile, the Procore data found that smaller firms experienced more severe declines in construction activity during the pandemic than larger firms.
"We are living in a time when change seems to be the new norm, but something that will never change is the resilience of the construction industry," said Kristopher Lengieza, Procore's Senior Director of Business Development. "To date, a majority of states are experiencing levels of construction activity equal to, or in some cases, much higher than they reported prior to COVID-19."
Simonson added that, moving forward, only 12 percent of firms report they plan to furlough or lay off staff over the next four weeks while 17 percent anticipate adding to their headcount during that time span. Yet even as more construction firms predict they will expand during the next several weeks, 42 percent do not expect demand will recover to normal levels for at least four months, and most of those firms expect recovery will take longer than six months.
Simonson noted that construction firms are counting on additional federal help to improve demand for construction and make it easier to return people to their payrolls. Fifty-five percent of firms report they are counting on Congress and the Trump administration to enact liability reform that protects firms that are complying with coronavirus safety protocols from litigation. And 33 percent are counting on Congress to boost infrastructure spending to offset declining private-sector demand.
Many firms are also hoping that Congress will not extend the unemployment supplement that is currently set to expire at the end of July. Notably, 34 percent of firms that called back employees who had been furloughed report having some personnel refuse to return to work because of those unemployment supplements. "Extending the supplement will only make it harder for more employers to bring people back onto payrolls," Simonson cautioned.
"Without additional help from D.C., the few gains this industry has made during the past few weeks will likely be fleeting," Simonson added. "That is why we will continue to push Congress and the Trump administration to enact the kind of long-term economic recovery measures this industry needs to truly rebound from the coronavirus."
The association's new survey is based on responses from over 630 firms collected between June 9 and 17. Procore's data is based on the transactions logged via the company's software by tens of thousands of construction firms across the country.
Click here for the association's survey results and here for a video summary of the survey responses. Click here for Procore's new construction data.
Pages