Press Room
Please contact Tim Linville for all press inquiries, at (216) 398-9860 or tim@ceacisp.org.
News Releases
Summer Internships Add Valued Career Experience
ACE Mentor Program Students Spend Summer Interning
Internships Add Valued Experience
Summer means R&R for many young people, but not for several students involved with the ACE Mentor Program of Cleveland. These young people are working hard this summer learning more about the building and construction industry. These opportunities fall under the ACE Mentor Program of Cleveland's Career Pathways committee's responsibilities.
Take Imani Young. Imani, who joined the ACE program in her junior year at John Hay's Cleveland School of Architecture and Design, graduated in 2014, and is now interning with Regency Construction Services, Inc. getting front-line experience in the industry after graduating in May of 2018 from Andrews University in Michigan. She received a $19,000 ACE Mentor Program of Cleveland scholarship via the Cleveland Foundation - Ward Scholarship.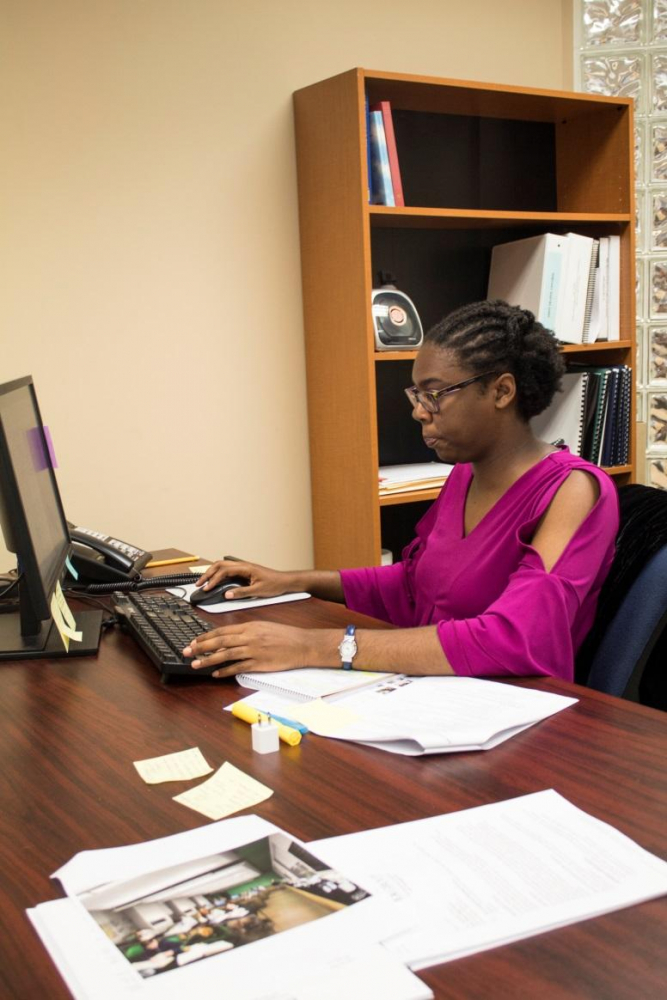 Imani Young at work at Regency Construction Services, Inc.
ACE Mentor Program of Cleveland Board Chair Tari Rivera is President of Regency Construction Services and a tremendous advocate for providing opportunities. "Imani's internship is allowing her to work on a multitude of tasks typically performed by an entry-level project engineer," Tari Rivera noted. "She is currently working on an estimate for a renovation of a chemistry lab, chemistry prep lab and a collaborative area for Holy Name High School. This assignment included visiting the school to meet the architect and school principal to observe and take pictures of the spaces, performing take-off quantities on on-screen estimating software and inputting data into the estimate spreadsheet. Imani also assisted with the presentation of the estimate to the client. She is also assisting project managers with the subcontractor pay application process working with certified payrolls and lien waivers."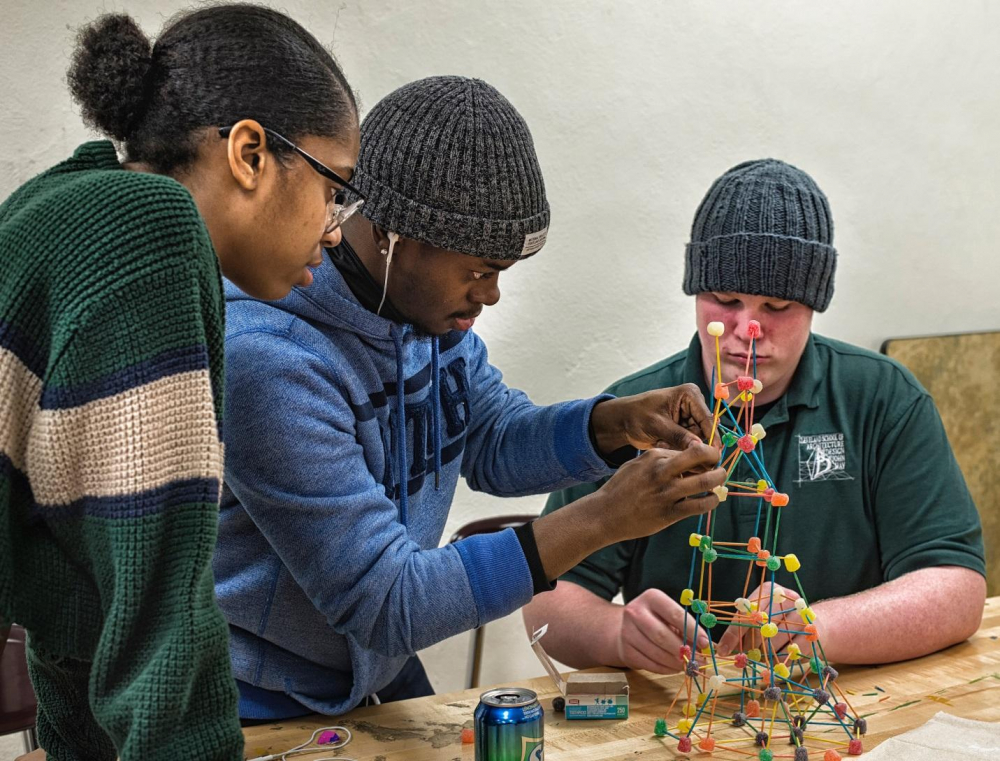 Bakari Ballard works with fellow ACE students on a design challenge. Ballard is one of two summer interns at Stark Enterprises.
Stark Enterprises, headquartered in Cleveland Ohio, is also hosting interns for the summer – Bakari Ballard, a 2018 John Hay graduate who will be attending Kent State University in the fall (majoring in Construction Management), and Takumi Jordan Davis, a 2016 John Hay graduate now majoring in architecture at Carnegie Mellon University, who also interned with the Construction Employers Association earlier this year. Both Bakari and Takumi are working with key executives in every aspect of business operations at the full service real estate development company – including acquisitions, development, design, leasing, construction and property management. Stark, which is currently building the new hi-rise Beacon in downtown Cleveland, a new student housing complex in Arlington, Texas, a mixed-used property in Los Angeles, and an historic building in downtown Pittsburgh, is providing these young men with valuable work experiences and opportunities. Stark has hosted two ACE interns each of the past three years.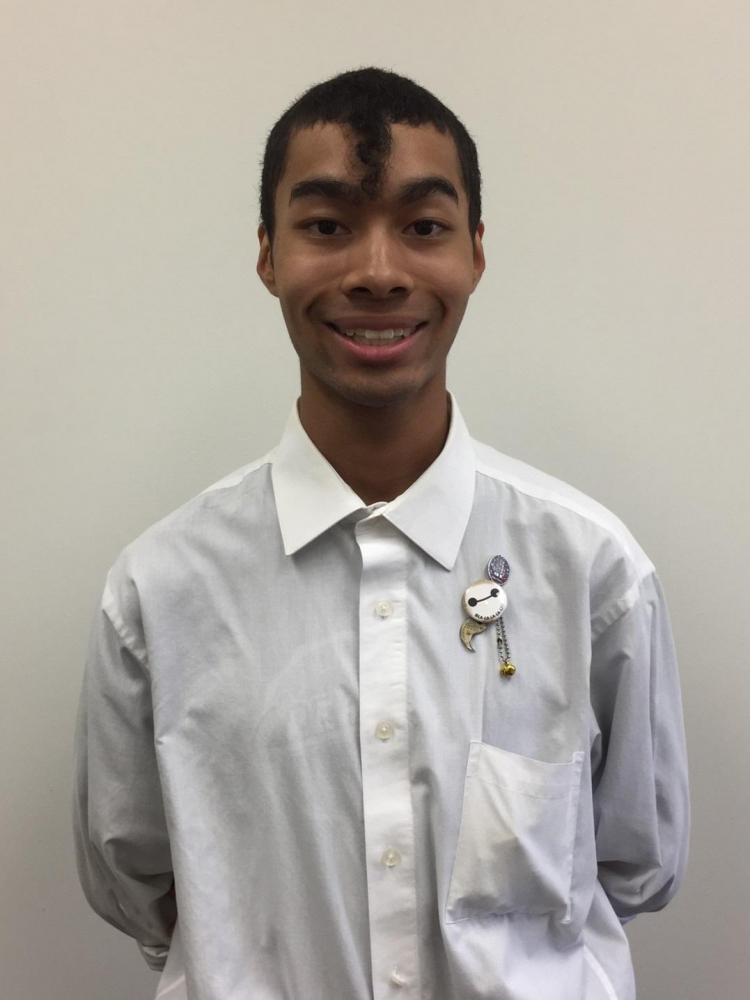 ACE student Takumi Jordan Davis is one of two ACE scholars interning this summer with Stark Enterprises.
Taking Initiative Pays Off
Mohammed "Moe" Khaled, the inaugural recipient of the Tom Laird Excellence in ACE Award, reached out to Emeritus ACE board member Tom Laird in the spring and became one of Gilbane Building Company's summer interns. As the newest member of The Lumen at Playhouse Square project, Moe has learned the importance of attention to detail and having good communication skills. He has been on site for almost a month, and has demonstrated his ability to take on daily reports and accurately documents daily site progress. "My favorite part about construction is the interaction with different people and learning from others," said Moe. "I also like seeing things go from nothing, to something." Moe has been a valuable addition to the project team and is eager to learn.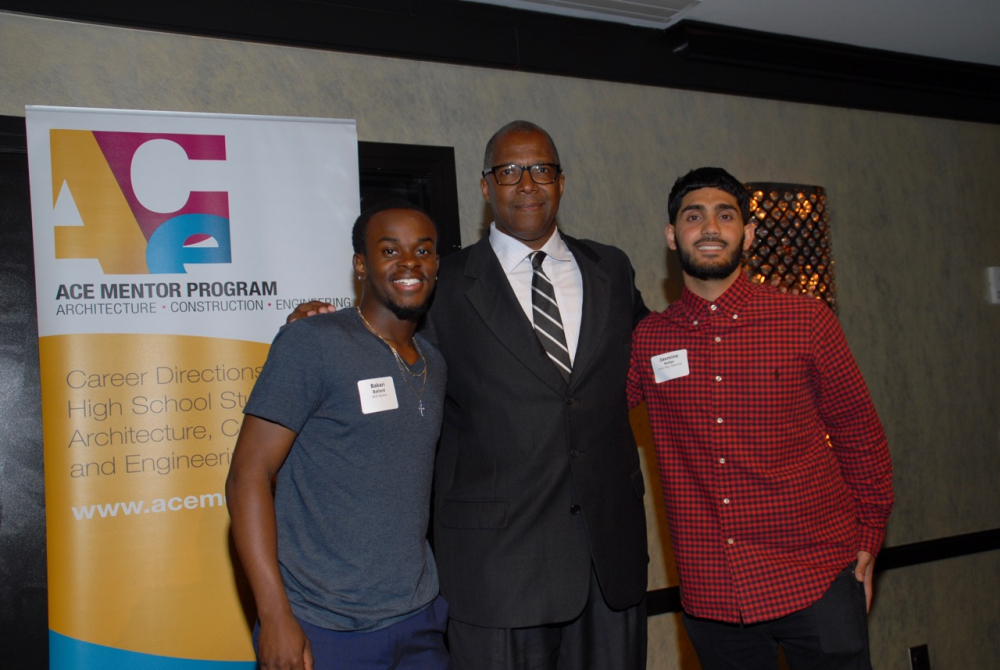 Bakari Ballard, Glen Shumate, and Mohammed Khaled at the ACE 10th Anniversary Gala.
These opportunities fall under the ACE Mentor Program of Cleveland's Career Pathways board committee's responsibilities. "The overarching goal of the Career Pathways Program is to engage and retain students through the full cycle of their high school, college or trade school and professional careers'" said Glen Shumate, executive director of ACE Mentor Program of Cleveland. "This starts in high school with shadow experiences – students are paired with professional mentors who provide students with a tether to their ACE relationship and help align them with co-op and internship opportunities as they move through their secondary education experience. Then, when students graduate from college, the ACE network can help align them with full-time work opportunities, keeping them in the industry and in the region."
Several other ACE alumni are interning and working for AKA Construction Team, CEA, Independence Construction, Ozanne Construction, Then Design, Turner Construction and with other employers.
This is the type of internship experience available to ACE Mentor Program students. To learn more about Career Pathways Program, contact Glen Shumate, Executive Director, at glen@ceacisp.org.
To contribute to ACE Mentor Program, visit this page.
This story was written by Kim St. John-Stevenson of Ink+ LLC.
State Construction Group Launches Opioid Awareness Week
This article is by Ernie Smith a social media journalist for Associations Now.
We want to make sure our people know there are alternatives to opioids, and give them support if they are having a problem."
Drug Free Workplace
By Editor T. Shreves and Staff Associates, L.Garner and P.Solich,
NECA
(National Electrical Contractors Association)

MANAGER'S COMMENT
We hear it from others and we ourselves profess it quite often. "We have a drug free workplace." Now that's comforting and it's our answer to the drug abuse epidemic. So, all is right with the world...or is it?
I don't even know where to begin, from before or since drug testing language was inserted into the CBA's. Hmmm.
Let's go with before and come back to it again at the end.
Some people forget, and others aren't old enough to have been in the industry prior to drug testing but surprise, drugs aren't new. As us old folks love to say, back in the day, meaning pre-drug testing, what do you suppose was the number of electricians who were doing drugs? I admit, I don't have verifiable statistics because I don't think they exist but from my experience I would say it was way, way, way less than today. That, in of itself says something about the effectiveness of drug testing as an answer to the problem.
Keep in mind I'm talking about drug testing not drug treatment. Obviously, drug use has grown appreciably since back then and that's probably an understatement. So, the question is, are we seeing a comparable increase in failed drug tests? I feel confident we're not and here's an example of why. I was at a conference on this topic attended by construction con-tractors and union officials where a union tradesman said flat out he had been a ten-year heroin addict and always had a valid drug card in his pocket. He said what he needed was someone to talk to confidentially about his problem and get help, not BS drug tests that he could beat every time. Incidentally, I bet he was on a whole bunch of jobs during those ten years that were proclaimed to be "DRUG FREE WORKPLACES." Damn, drop the microphone!
So, I maintain the testing isn't keeping the workplace safe today, and I'm pretty sure safety was the main goal way back when drug testing was initiated as the answer (easy to sell). Now today, believe it or not, with respect to drug impairment, the workplace isn't any better. That is unless the tradespeople on the job have been trained to recognize IMPAIRMENT and have been empowered to remove impaired people from the job site. You see, that's how we did it back in the old days. Foremen and Stewards did their job in keeping the workplace safe. Journeymen did their job in keeping the workplace safe. Impaired individuals were sent home or in some cases sent to the trailer so as not to make the job site unsafe. By the way, the trailer thing is not recommended today.
Obviously, those were simpler times. No doubt. The common sense that those folks used back then to recognize who was creating an unsafe condition and the understanding that it was up to them to take action has been dampened today.
I'm not going to get into the societal changes that have contributed to that but we all know it's true.
Since we're talking about drugs and safety, I have a question. If someone is on a job site and is taking a prescription opioid; thereby, having a valid drug card, is that job safe and is it drug free? This is why I say drug testing isn't as effective at producing a safer workplace than good old fashioned common-sense action in recognizing and removing impaired workers.
We started back in the day with the question of how do we make the workplace more safe as it related to drug use and we answered it with drug testing. "Easier to sell an answer."
Here's what I'd like see happen to really make the workplace safer as it relates to drug use.
Include drug awareness training (how to recognize impairment) into the apprentice curriculum.
Include drug awareness training (how to recognize impairment) to the journeyman training/continuing education offerings.
Make it clear to foremen and stewards they have the authority to remove impaired individuals from the workplace and encourage all employees to say something if they see some-thing.
Educate all employees about treatment options that are available and how to access them if needed.
Spend more on drug training and treatment that we spend on drug testing.
Delusion replaced with reality. You can't know if your workplace is drug free.
Pages