CEA Habitat for Humanity Project
---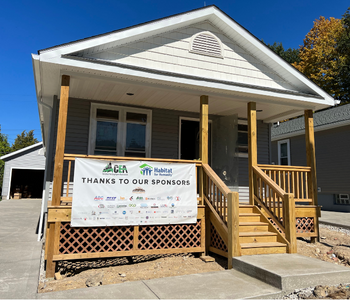 CEA Habitat for Humanity Welcome Home Dedication Ceremony
In this Welcome Home video, a Cleveland family's dream of a safe place to call home was realized thanks to the generous support of the 63 CEA (Construction Employers Assocation) contractors, CBCTC (Cleveland Building and Construction Trade Council) partners, and numerous affiliates who came together as financial sponsors or by contributing materials and labor to support CEA's Habitat for Humanity project.
With over $250,000 in financial and in-kind donations the dream became a reality. Sierra and her family were beyond words and full of gratitude as they toured their new home for the first time as those involved gathered to witness and celebrate this unforgettable, life-changing project. Thank you to The Greater Cleveland Habitat for Humanity Organization and their partners for the incredible work their organization does in our community. The Greater Cleveland Habitat for Humanity brings people together from all walks of life to build homes, community, and hope.
CEA is grateful to those who made this possible through sponsorship and donations. None of this would have been possible without the generosity of:
Cleveland Building and Construction Trades Council, ABC Supply Co. Inc., Best Supply Inc., Montgomery Truss and Panel, Bolton Pratt Company, Cleveland Cement Contractors, Donley's, Inc., Giorgi Interior Systems, The Great Lakes Construction Co., Independence Excavating, Inc., Interior Supply, Inc., Lallo Masonry, Lumber One, OCP Contractors, Inc., Precision Environmental, Shook Construction, USA Roofing and Warren Roofing & Insulating Co.
The AKA Team, The Albert M. Higley Co., Chieftain Trucking and Excavating, Dependable Painting, Hatzel & Buehler, John G. Johnson Construction Company, Messina Floor Covering, Norris Brothers Company Inc., Ozanne Construction Company, Rayhaven Group, Inc., Regency Construction Services, Inc., Ritenour Group, Tech Ready Mix, Inc., The Ruhlin Company and Zenith Electrical. Architectural Floors of Cleveland, Architectural Siding, Trim and Roofing, Bedford Cabinets, Cleveland Building Restoration, Cleveland Marble Mosaic Co, Cook Paving & Construction Co., Inc., Corcoran Tile & Marble Inc., Custom Millwork, Dumpsters.com, Forest City Erectors Inc, G&B Electrical, Infinity Construction Co., Inc., The John F. Gallagher Co, Building Laborers Local 310, Luxury Heating and Cooling, Marous Brothers Construction, Next Generation Construction, Reliable Onsite Services, Royal Landscaping, Season Contractors, The Shelly Company, Ullman Electric, Vocon, Ecoseal, Ballast Fence, J&S Garage Doors, Lawler Construction, Whitecap Supply and Carter Lumber.
---
CEA Habitat for Humanity House Groundbreaking Ceremony
On Monday April 18, 2022 the Construction Employers Association (CEA) along with over fifty of their members and fellow union contractors united forces with the Greater Cleveland Habitat for Humanity organization for the groundbreaking ceremony that would kick-off a  project to make a Cleveland family's dream of home-ownership a reality.
The Greater Cleveland Habitat for Humanity home will be constructed in the Greater Buckeye neighborhood, with all involved donating their time, talent, monetary donations, and materials to this fully-funded, all-union construction build - a first for Cleveland Habitat This will be Greater Cleveland Habitat for Humanity's 14th house on Grandview Ave. and the 83rd home in the Greater Buckeye area since 2016.  
Tony DiGeronimo, president of Precision Environmental Company and vice chair of CEA, brought the concept of building a Cleveland Habitat house to the CEA board with an overwhelming "YES" response. "This project is the collaboration and joint efforts of construction unions working together to revitalize Cleveland and help a family" remarked Congresswoman Shontel Brown. "CEA and Habitat for Humanity are making this dream a reality."  The CEA board members in attendance included Chairman Dominic Ozanne, David Giorgi, Joe Michael, and Chris Halapy.