Cleveland Builds' Union Construction Readiness Pre-Apprenticeship Class Has Successfully Launched
July 19, 2021
The first pre-apprenticeship class for Cleveland Builds met Tuesday, July 13th with 31 participants. Shawn Gray, Jason Shank and Plumbers Local 55 are hosting the classes.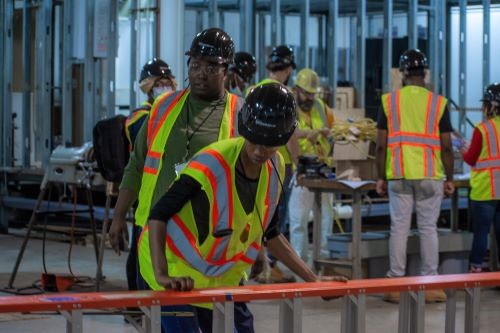 Cleveland Builds' co-chairs, Tim Linville and Dave Wondolowski and executive director, Keith Laschinger, were present to welcome participants to the class on its first night. 
The class met for a second time Thursday, July 15th and will continue each Tuesday and Thursday from 5:30-9:00 pm through August 5th. The class is introducing participants to a variety of building and construction trades with the goal of placing those who successfully complete the class in building & construction apprenticeships.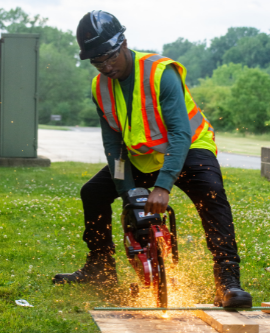 Nearly 90% of participants are African American, 60% from the City of Cleveland, and 25% women. 
Jason Shank is leading training efforts and has called on the following to lend their expertise to training during the first two nights of training: Jarrod Armicil (IBEW 38), Barry DiJulius (Cement Masons 404), Jeff Gulley (Pipefitters Local 120), Joseph Kintyhtt (IUPAT DC-6), Greg Promaska (SMART Local 33), and Dan Stimpel (Ironworkers Local 17). Trainers are evaluating participants on safety, attitude, completion of projects, and math skills.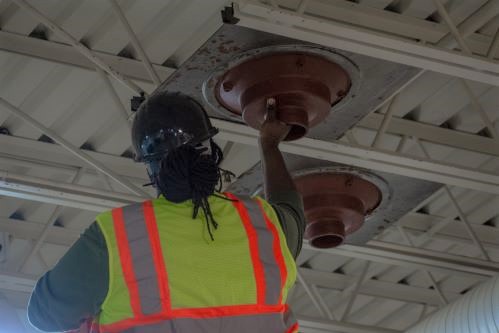 In order to be selected for the class, candidates needed to apply and interview. Many helped with recruiting efforts including Norm Edwards and Ginn Academy representatives as well as the Urban League. Shakorie Davis (Next Generation Construction) and Tari Rivera (Regency Construction) also referred candidates to the program. In total, about 90 people expressed interest in the program from June 1st through July 12th. 
Shakorie Davis, Barry DiJulius, Jackie Jacob (Great Lakes Construction), Tari Rivera, Glen Shumate (CEA), Mike Walter (Cement Masons 404), Julie Wilson (Building Laborers' Local 310), and Torie Wilson (SMART Local 33, TH Martin) interviewed candidates.