Submitted by Katie Schuerger on
Construction, Trades and The Women Who Love It
By Montrie Rucker Adams, APR
With the advent of the #MeToo Movement, many women expressing their experiences are from entertainment, professional sports, Silicon Valley and the political landscape. The predominantly male-dominated construction industry is largely silent. National employment numbers for women in the trades is under four percent, despite decades of federal policies aimed to increase that number.
In a 2013 Institute for Women's Policy Research study, the majority of women report being treated mostly equally when it comes to safety, formal training, and use of tools on the construction job site. However, it depends on whom you ask, her work experience and where she lands on the construction/trades continuum.
What is it like to be a woman today in the construction industry and what does the future hold as many navigate their careers?
Different Perspectives
"The industry is considerate of the changes in the work force and the needs of their respective communities," said Destinie Rivera, an intern with the Ohio Environmental Protection Agency. "I feel that if the construction industry continues to adapt to today's changes, the women and men entering these fields will already have been exposed to the inclusive and diverse atmosphere of these industries."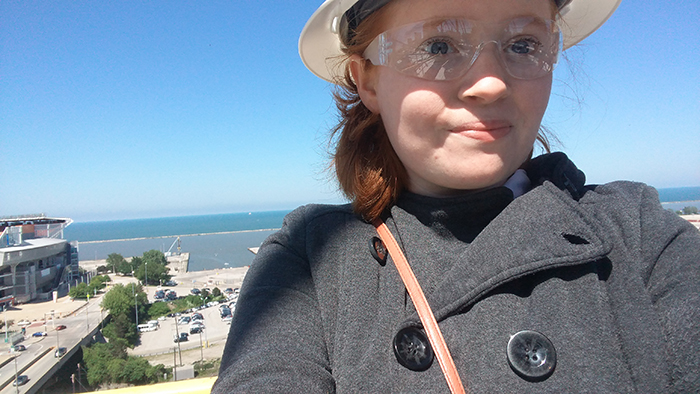 Rivera is new to the construction industry having been introduced, while in high school, participating in the Architecture, Construction and Engineering (ACE) Mentor Program. She has a different perspective than Doreen Cannon who began her five-year apprenticeship in 1998.
The Trades
Cannon graduated from Marietta College with a BA in Management and Psychology, worked in retail management and as a buyer, but left when her son was born. Upon returning to work, she needed fewer hours than the retail industry required. "I always enjoyed working with my hands and thanks to my father, was very handy fixing things around the house," she said. Cannon attended a career fair for women that gave insight into how to enter the trades. After collecting information on all the building trade apprenticeships, the plumbers career caught her attention. She applied and was accepted into their apprenticeship program. "I was impressed with the training available through UA Local 55," she said.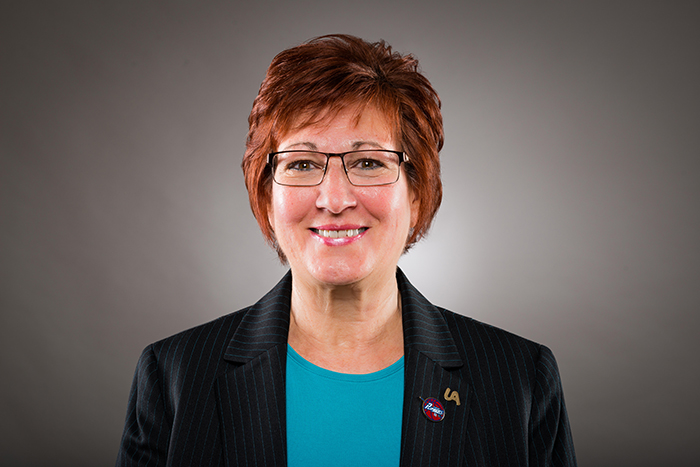 When asked about her best moments in construction, Cannon mentions her 20-year history, starting as a Journeyman and rising through the Union, becoming the first elected female Local 55 president. "I am in my third term. Having a chance to meet other Tradeswomen locally and across the country has been a highlight of my career," Cannon shares. To hear their stories and feel the support we have for each other is amazing." No longer working as a full-time plumber with Northern Ohio Plumbing, Cannon has spent the last five of her 20-year career as an instructor at her Union training center.
Management
Growing up around manufacturing and engineering gave Cynthia Leitson a hands-on perspective of the construction industry from the view of production, scheduling and procurement. Her first job was in Chicago at Motorola after graduating from Michigan State University (MSU) with a degree in metallurgical engineering. "I studied supply chain at MSU. It was a practical degree since many of my professors were former plant employees. I could "see" the job while studying it," said Leitson, vice president, capital, construction, and facilities at Cuyahoga Community College. She is responsible for overseeing all capital and construction, leased and purchased property, and plant operations.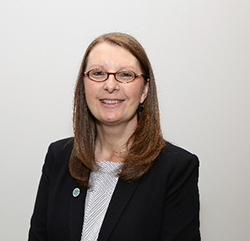 She remembers being the only woman at Motorola. "The men treated me like their daughter. They were very protective of me," Leitson remembers. She never felt harassed. "I would not put up with that. My first 10 years on the job, when I traveled with the men, they would go to the clubs at night. As time went on, there was less and less of that."
Business Owner
Finding herself unemployed after stints in the banking industry, Fatima Ware decided she wanted a job that paid well. In 2011, she learned about a program call UCIPASAP (Union Construction Industry Partnership-Apprentice Skills). The program offered tours of several union halls for participants to determine a good fit. Ware chose Sheet Metal. "As I began to learn about the trades," said Ware, "I realized how much I loved it."
Ware is the founder and owner of Ware's the Dirt? an HVAC installation company. She gains clients by bidding on job opportunities and soliciting majority contractors. "There's a certain percentage required of female, minority and disadvantaged businesses and I hope to be a part of the bid," she said.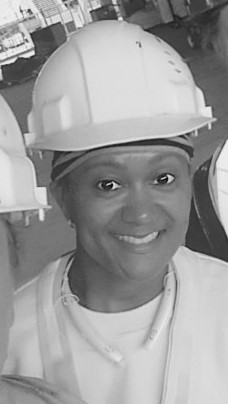 "It's hard for women in construction," Ware laments. She acknowledges that change is needed. "In my union there are 1,000 members and I am the only African-American woman," she said. Not willing to wait for someone else to implement strategies for improvement, Ware started a women's committee in Local 33 so that women can share their experiences and offer assistance where needed. Some women may not want to complain for fear of retaliation or losing their job. "My union is very supportive of me. I have the backing of the business agent and business manager and others."
Commitment Required
When asked about encouraging more people to get in the construction field, both Cannon and Ware agree that more commitment is needed. "The industry needs women and men to be committed to their Apprenticeship. They must put in the time and effort needed in the classroom and on the job to become the best skilled tradesmen or women they can," said Cannon. "They need to do their research and make sure they choose the trade that is right for them. They should take the time to understand the challenges of working in the field, the weather and physical aspects of the job. They need to show up for work every day and on time," she adds.
"Some people think you don't need math or geometry to work in construction," adds Ware. "In my union you do. When people have low test scores, they will have difficulty doing the work. Construction work is hard," said Ware. Prospective Local 33 members take math, English, dexterity, and a spatial relations test. "The problem is passing the test. You have to be competent. You must be able to hold your own and bring something to the table," she said.
A Welcoming Place?
Equal treatment allows for women to be on equal ground. However, in the same IWPR study, nearly 40 percent of women say that, compared to their male co-workers, they are rarely ever treated equally in hiring and work hour assignments. Fewer hours means less pay. It can also have long-term effects. Apprentices who work fewer hours are not able to move quickly through the program, so they can make a higher wage.
"A lot!" said Ware when asked what needs to happen to make the industry more welcoming. "More women. A change in men's attitudes. A change in society's attitude. The number of minorities hired is an indication of the number of women hired. The more minorities, the more women," Ware said.
"Women do not think of a career in the trades as an option available to them. Tradeswomen need to continue to reach out to women in the community and share their success stories. When women meet tradeswomen and have a chance to hear their story, they realize, if they can do it so can I," said Cannon.
"We need to make sure that women are getting the same training and opportunities in the field as men. Women are often used to fill a quota on a job and then laid off when the job is completed. They have many attributes that lead to success in the trades, but need equal opportunity," she adds.
Leitson offers this, "By being passionate in one's work and by giving back to the community, that will lead to good partnering and a collaborative environment. I think we need to continue to inspire the kids in high school to enter this field and find their passion."
Future Opportunities
Construction jobs give women a chance to earn family-sustaining wages…some without a college education.
For Cannon, Leitson, Rivera and Ware, four women in four different areas and career stages, the future of a construction career for women is hopeful.
#MeToo is not going away. Cannon feels that anything that can bring to the public about what is going on, it's good for the tradeswomen. "It will start more people talking about their career and their area. When people speak up it helps others speak up and become more confident."
Leitson looks forward to the next five to 10 years as she will watch more women across the industry, at multiple firms, continue to move up into executive roles – as superintendents, lead program managers and in other managerial and executive positions. "I am very impressed with the caliber of women in the field and if it is all about the work and the experiences they are accumulating, then moving up in the roles will continue to be a natural occurrence," she says.
"In 20 years I would like to see the industry adopt more sustainable techniques and methods, with a focus on renewable resources. By then, I hope the industry will have an equal ratio of women to men. I hope to not feel surprised if I am not the only woman in the room," said Rivera.
Ware said that 20 years from now, she thinks there will be more women in the field because the trades are suffering from a lack of qualified people. "Whenever our country has lacked in an area, women have stepped up to help out. They worked in factories when soldiers went to war. I believe it is our nature to help and improve our world. I also believe the industry will be more technologically advanced to enhance and hasten the building process," she offered.
Lastly, after working in the industry for 20 years, Cannon sees the future 20 years filled with opportunity. She adds, "Women will have equal opportunity. There will be more women in leadership positions, within their companies, Unions and at the Union International levels. Also, there will be more women training instructors and training directors. Women will no longer feel the isolation of being the only women on the job site."