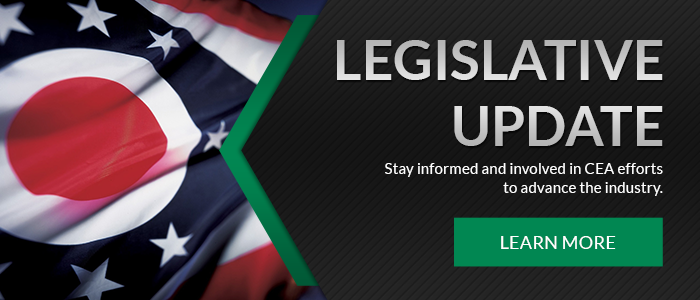 The Ohio House Is in Full Swing Debating Ohio's Operating Budget
Ohio law enables an extended budget introduction for a new Governor. Thus, Governor DeWine introduced his budget in mid March and in less than a month the Ohio House Finance and House Finance Sub Committees have had multiple hearings. House leadership will now review proposed amendments over the next two weeks. The House's goal is to pass its version of the budget by mid May.
Here are some provisions of HB 166 that maybe of interest:
Construction and Manufacturing Mentorship Program

The bill creates the Construction and Manufacturing Mentorship Program which attempts to expose minors who are 16-or 17-years old to construction occupations and manufacturing occupations in Ohio through temporary employment with an employer. The provision among other things would require training courses, specific tools minors could work with, and create a civil penalty. CEA has alerted House members that this provision does not work for the construction industry.

Coordinated Vendor Debarment

The bill also provides for a general provision in state law that prohibits any vendor who has been debarred on any list of debarred vendors from participating in state contracts including those specific sections and any other section of the Revised Code. The bill defines "participate" and "state contract" for purposes of the general provision.

Asbestos Abatement

HB 166 expands the scope of activities that are subject to regulation by applying the law to activities involving more than 3 linear or square feet of asbestos-containing material, rather than more than 50 linear or square feet as in current law. The bill makes other changes

Increased Funding for Short Term Certificates by the State at $30 M for next two years
Ohio Facilities Construction Commission (OFCC) the department testimony (Read the testimony here)

Eliminates a provision of law stating that the Executive Director of the Ohio Facilities Construction Commission must exercise all powers that the Commission possesses.

Opportunity Zone Investment

Authorizes a nonrefundable tax credit equal to 10% of a taxpayer's investment in an Ohio Opportunity Zone fund. Limits individual credits to $1 million per fiscal biennium and total credits to $50 million per biennium. Reduces the total biennial cap on the existing small business investment credit from $100 million to $50 million and otherwise modifies that credit.

Lead Paint Abatement

The department of Health plans a multi-prong effort to combat lead poisoning in children, including abating properties, demolishing lead-blighted properties and supporting the training of licensed lead workers and contractors.
CEA's lobbying team continues to attend multiple budget hearings, discuss issues with members and track various policy changes as hundreds of amendments are being submitted and reviewed during this process.
Transportation Budget Passes with Gas Tax Increase
After much debate and going over the State's timeline for passage,
HB 62
the State's Transportation Budget was passed by both Houses and signed by the Governor. The bill allocated $8.5 billion to spend.
Raises the Gas Tax For Road and Bridge Construction

The final numbers were an additional 10.5 cents per gallon and 19 cents gas tax on diesel fuel. The gas tax will raise $535 million per year, while the increase in the diesel fuel rate will raise $330 million per year for the state. CEA and its lobbying team advocated for raising the gas tax.

Creates the Road to Our Future Joint Legislative Study Committee

Requires the Study Committee to review six subjects relating to ODOT: alternative sources of revenue, expense mitigation, evolving technology, innovative finance techniques, asset leverage and conditions, and employee demographics. Requires the Study Committee to conduct reviews and analyses of eleven specific issues relating to the subjects listed in above.

Increases Funding for Public Transit at $70 Million Each Year Over the Biennium
Allows for Variable Speed Limits

This is allowed on two additional roadways after ODOT adopts rules to establish criteria governing variable speed limits for those two highways.

Caps CDL Skill Test Fees

Caps at $115, maximum divisible fee that charged for a commercial driver's license skills test.

Special Regional Heavy Hauling Permit

Removes the 150-mile restriction on the special regional heavy hauling permit and retains current law that makes it mandatory for ODOT and local authorities to issue the permit, provided the applicant pays the fee for the permit and provided that the permit cannot be used for roads in a condition insufficient to bear the weight of the vehicle.

Study of Fees for Overweight Vehicle Permits

Requires ODOT to conduct a study of the fees associated with overweight vehicle permits and the general impact of overweight vehicles on Ohio's infrastructure,

Vehicle Size and Weight Limit Exemptions for Towing Vehicles

Makes size and weight limitations exemptions permanent for towing vehicles from size and weight limitations in certain situations.

Authorization to Use Indefinite Delivery Indefinite Quantity (IDIQ) Contracts

Requires ODOT to enter into indefinite delivery indefinite quantity (IDIQ) contracts for not more than two projects in each year of the FY 2020-FY 2021 biennium.

Website Updates on Status of Projects Funded Under Transportation Budget

Requires website updates for any agency or entity that receives Ohio motor fuel tax funding of over $500,000 or expends funds on a project that takes more than 7 days to complete.

Port Authority Contracts

Eliminates the requirement that contracts between a port authority and a contractor be executed in triplicate, thus eliminating the need for the contract to be carbon copied.
Competitive Bid Thresholds Raised for Cuyahoga County
Ordinance to allow county departments to take bid threshold from $25,000 to $50,000 and the threshold for the Board of Control from $500 to $5,000. The bill went through second reading and a final third reading, where a substitute bill was accepted and passed into law.
The sub bill contained an amendment by Councilman Miller to allow more reporting to keep Council apprised of smaller items which are more than $1,000 and less than $5,000. It also contained a provision for County agencies that clarified existing - office vouchers which do not exceed $1,000.
Councilman Michael Gallagher, has cited the impetus for the bill was long delays and projects being months behind schedule. CEA appreciates the interaction and communication with the sponsor, various members of Council, and the Council staff through this process.
Cuyahoga County May Ballot