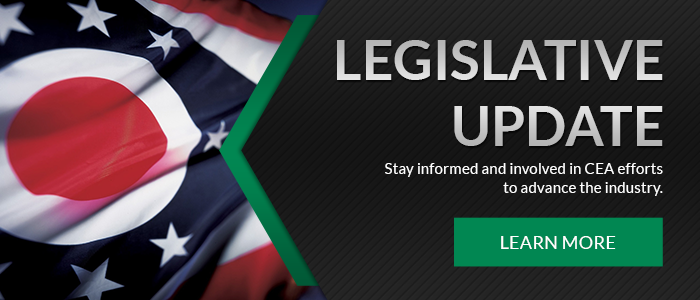 Preparing for Fall Session
Now that the state operating budget has been passed and signed, the legislature will focus on a myriad of issues when they return for fall session. Although the Senate has a couple of August dates on its calendar, both the Senate and House of Representatives have a full agenda of committees and session dates starting in September. Some of the larger issues that will be debated include; gun control, spending for school construction, criminal sentencing reform, and school take over policies for poorly performing districts.

Ohio Operating Budget Passed and Signed
The General Assembly passed a budget conference committee report on HB 166 (Oelslager) by a 29-1 margin in the Ohio Senate and a 75-17 margin in the Ohio House. The budget received significant democratic support which has not always been the case the last couple of budget cycles. Governor DeWine signed the budget on July 18th which was seventeen days after the statutory budget deadline. As stated before, this was the third time a legislature has failed to produce a budget on time in the past 28 years. Along with his signature, Governor DeWine issued twenty five veto messages. The bill contains $69.79 billion in General Revenue Fund appropriations and $143.27 billion for all-funds appropriations over the next two years.

After months of legislative action and thousands of amendments being decided on, here are some provisions of interest.

Income Tax Deduction for Small Businesses
CEA and others advocated to keep current thresholds. This provision maintained the deduction at $250,000.

Opportunity Zone Tax Credit
Creates a new Opportunity Zone Investment tax credit.
State Agency Workforce Diversity Annual Survey and Report
Requires the DAS Director to annually conduct a survey on diversity within each state agency's workforce.
Ohio Turnpike and Infrastructure Commission – Contracts
Authorizes the Ohio Turnpike and Infrastructure Commission to use a value-based selection process for projects that involve both design and construction elements in a single contract (i.e. "design-build" projects). Current law requires the Commission to select the lowest responsive and responsible bidder for these projects.
Authorizes the Commission to enter into any contract via a competitive proposal process, when the Commission determines that competitive bidding is not practical or advantageous to the Commission. The bill limits this process to only contracts for goods and services.
Raises the threshold for when a bond is required for goods and services contracts from $150,000 to $500,000.
Authorizes the Commission to enter into contracts for the purchase of equipment, materials, and services without public advertising for the following:
(A) construction of a temporary bridge
(B) temporary emergency repairs to a highway or bridge after a storm, flood, landslide, or other natural disaster
(C) in response to circumstances created by an extraordinary emergency, as determined by the Commission.
Authorizes the Commission to use a shorter form of public notice, currently available to state agencies and political subdivisions, and removes the restriction that all notices occur in a Franklin County newspaper.
Minority Business Development
Requires Minority Business Development to provide grants to local nonprofit organizations to support economic development activities that promote minority business development.
Minority Business Bonding Program
Permits the Director of DSA, upon the recommendation of the Minority Development Financing Advisory Board, to pledge up to $10 million to the Minority Business Bonding Program.
Minimum Standards for Jails
Modifies an action by the Director of Rehabilitation and Correction to enjoin compliance with the minimum standards and minimum renovation, modification, and construction criteria for minimum security. These provisions codify current practice.
Ohio Maritime Assistance Program
Creates the Ohio Maritime Assistance Program under which certain port authorities which meet certain criteria may apply for grants to construct new marine cargo terminals or improve existing terminals. Requires port authorities to provide matching funds on a 1:1 basis for each grant dollar awarded to the project. Funds the program at $11 million the first year and $12 million the second year.
Asbestos Training Certification Changes
Expands the scope of activities that are subject to regulation by applying the law to activities involving more than 3 linear or square feet of asbestos-containing material, rather than more than 50 linear or square feet as in current law and makes other changes.
Lead Abatement Tax Credit
Authorizes taxpayers to apply to the Department of Health for a nonrefundable income tax credit for costs incurred to abate lead hazards in a dwelling built before 1978. Limits the amount of each credit to the lesser of actual lead abatement costs incurred, the amount of such costs listed on an application for the credit, or $10,000. Authorizes the credits beginning in taxable years beginning on or after January 1, 2020. Authorizes any unused credit to be carried forward up to 7 years. Funds program at $5 million per year for the biennium.