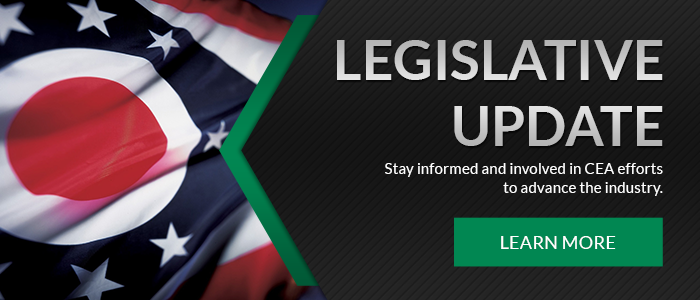 CEA Article 12/1/17
The Ohio General Assembly will likely be in session for two more weeks before they look to break for the new year. A big focus when legislators return will be on the State Capital Bill. The County continues its work to finalize its budget. County Council will hold multiple committee meetings and at least one full voting session in December. With elections over, Cleveland City Council has elected its President and continued its work. Here are some of the issues CEA is tracking.
STATE GOVERNMENT
State Looks Towards Capital / Infrastructure Bill
The legislation funds capital and infrastructure improvements with state-issued debt. This is obviously good for the construction industry. The tentative plan is for the introduction of the bill in February or early March with anticipated passage by April. The bill will include reappropriations for ongoing projects. The last Capital Bill had $2.62 billion in appropriations, including $160 million in community projects. This cycle community projects will total roughly $130 million. This is a lower amount of money than what was allocated in the current capital biennium. CEA will be monitoring this bill closely.
Illegal Immigrants and Ohio Workers Compensation
HB 380 Workers Compensation (Seitz, Householder) prohibits illegal and unauthorized aliens from receiving compensation and certain benefits under Ohio's Workers' Compensation Law. The bill had a second hearing on 11/29/17 at which the bill was amended and passed out of the Ohio House Insurance Committee. The bill's next step would be the House floor.
The bill prohibits an illegal or unauthorized alien from receiving compensation or benefits under Ohio's Workers' Compensation Law. The legislation was amended in committee to:
Make sure the term illegal alien is consistent throughout the bill
Make sure Mayors Courts are not venues for jurisdiction of this bill
Keep in line with changes previously made in the BWC budget
Instruct BWC not to add more paperwork, but simply add another field on the 1st report injury form
Allow an illegal alien worker that is injured to have their dependent (who is a legal US citizen) receive death benefits. The intent is not to harm legal US citizens.
Similar provisions were placed in the Workers Compensation budget by the House only to be removed by the Senate earlier in the year. The House will look to vote on this issue in December or January.
Unemployment Compensation Hearings Continue
HB 382 Schuring (Unemployment Compensation) is the latest unemployment compensation bill. The bill has not secured support from either business or labor. Rep. Schuring stated this legislation is based on the interested party meetings held earlier this year. At the last two hearings, no one testified on the bill. CEA continues to attend hearings and interact with legislators and those in the construction industry to help craft a solution. The legislation had its fifth hearing in the House Government Accountability & Oversight Committee on 11/29/17.
HJR 4 Schuring (Unemployment Compensation Bonds)
The resolution would provide for the issuance of bonds to pay unemployment compensation benefits when the fund created for that purpose is or will be depleted or to repay outstanding advances made by the federal government to the unemployment compensation program. The House Government Accountability & Oversight Committee has held five hearings with very little testimony.
House Passed Law Will Aid Employers Outreach At Schools
HB 98 Career Information (Duffey, Boggs) deals with the presentation of career information to students.
The bill requires school districts to provide two opportunities every school year for employers to make presentations to high school students. The bill had four hearings in the House Education and Career Readiness Committee before it was passed out. It then was voted out of the full House by an 89-0 margin. The legislation will next head to the Senate.
COUNTY
Increased Funding for Roads and Bridges Passes
Ord. 2017-0003 Motor Vehicle License Tax - The legislation allows the County to levy an additional $5 tax per motor vehicle. The legislation will produce an extra $4-5 million a year to be used for road and bridge projects starting in 2019. As noted, CEA testified at County Council in support of this legislation. The bill passed in mid November.
Reverse Auctions
The County has looked at various ways to save money and during some of the discussion on budgeting the use of reverse auctions has come up. CEA has voiced its opposition to attempts to use this process for construction at the State and local levels. CEA will continue to pass along this message.
CITY OF CLEVELAND
Council Funds Programs And Approves A More Transparent Ballot Process
Council took action to redistribute $9 million of unspent personnel funding. The City also has extra admission taxes from the Cleveland Indians playoffs. These two pots of funding will among other things be used for portions of the 2018 paving program, enhancing the rainy day fund, and vehicle purchases.
Council approved reporting requirements to track groups that hire professionals to gather signatures and whose goal it is to place issues on the ballot. The new rules mirror state level and non-charter cities rules. They require a group seeking a referendum on an issue or a new law by initiative petition to disclose the funders, those hired, and the amount paid.
November Election Results
Thank you CEA members. CEA supported candidates and issues ALL won. A special congratulations to CEA member, Jack Petsche, on his election to Brecksville City Council.