Submitted by Anonymous on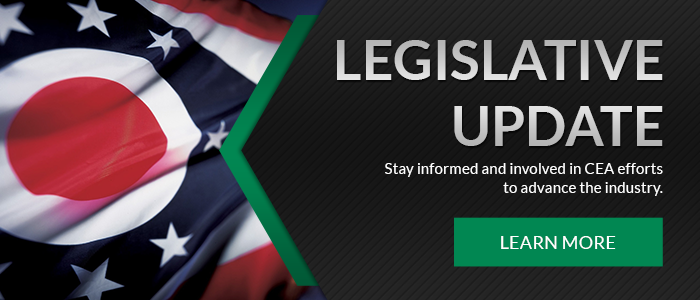 Senate Readies Changes To The State Budget Bill
The budget bill (HB 166) made its way from the House of Representatives over to the Ohio Senate in early May. Over the last month, the Senate has had multiple hearings and committee meetings. Senators submitted thousands of amendments which committee members and Senate leadership have reviewed. Now, the Ohio Senate likely will take another step towards completing its budget work next week when a substitute bill could be introduced. The substitute version of the legislation will make numerous changes to the House budget. At this time, CEA's lobbying team continues its work discussing with Senators CEA issues. Reinstatement of the small business investor income tax deduction to $250,000, rather than the $100,000 limit that passed the House is a matter that CEA has been seeking with Senators. Just this week, Senate President Larry Obhof mentioned his chamber is looking at the business investor tax deduction provision in some fashion. As changes to this important legislation take place, CEA and its lobbying team will continue to be active, analyze, act on changes, and be a voice for our industry.
BWC Budget Revamped In The Ohio House
HB 80 the workers' compensation bill passed the House and will start to have hearings in the Senate. Here are some of the provisions the House added to the bill:
Tightens rules against employee misclassification and creates a penalty ($500 for each misclassified employee)
Requires the Superintendent of Industrial Compliance to establish a test, consistent with the test used by the US Internal Revenue Service, to determine whether an individual is an employee or an independent contractor under the Workers' Compensation Law, the Unemployment Compensation Law, and the Ohio Income Tax Law. Prohibits an employer from classifying an individual as an independent contractor for purposes of the laws listed above when the individual is an employee under the Superintendent's test.
Requires workers filing claims to indicate whether they are U.S. citizens
Unauthorized immigrants or if they are immigrants with legal status to work
Prohibits a person who provides false information regarding immigration status or work authorization from receiving compensation or benefits under the Workers' Compensation
Law and subjects the person to criminal prosecution for workers' compensation fraud.
Modifies voluntary abandonment
Removes a prohibition against an employer requiring an employee to terminate the employment relationship as a condition of settling a claim
Increases from $5,500 to $7,500 what the bureau can disburse for funeral expenses
Changes charging employees for medical examinations
Prohibits a private employer furnishing services for a public employer under a contract governed by the federal Service Contract Act from requiring an applicant, prospective employee, or employee to pay for an initial or any subsequent medical examinations that are required as a condition of employment or continued employment.
Adjusts additional award for specific safety violation
Requires a claim for an additional award of compensation for a violation of a specific safety rule to be filed within one year of the injury, death, or diagnosis of disability due to occupational disease, rather than within two years as under current administrative rule.
Applies to claims arising on or after the provision's effective date.
Inserts Post-traumatic stress disorder
Makes a peace officer, firefighter, or emergency medical worker who is diagnosed with post-traumatic stress disorder (PTSD) eligible to receive compensation and benefits under Ohio's Workers' Compensation Law, regardless of whether the person suffers an accompanying physical injury.
Amends continuing jurisdiction – medical benefits
Alters temporary total disability compensation
Requires, for claims arising on or after the bill's effective date and unless otherwise provided in a collective bargaining agreement, an employer to do either of the following when an employee's temporary total disability (TTD) compensation is offset by an amount paid to the employee for accrued sick leave: reinstate the sick leave that offset the employee's TTD compensation; or (2) pay the employee the amount by which the employee's TTD compensation was offset by the sick leave.
Legislation To Increase Safety Is Introduced
SB 156 was introduced by Senator Theresa Gavarone to prohibit defrauding an alcohol, drug, or urine screening test. The legislation was referred to the Senate Judiciary Committee where it will likely have a hearing next week. CEA's lobbying team has been working with the sponsor on this legislation.