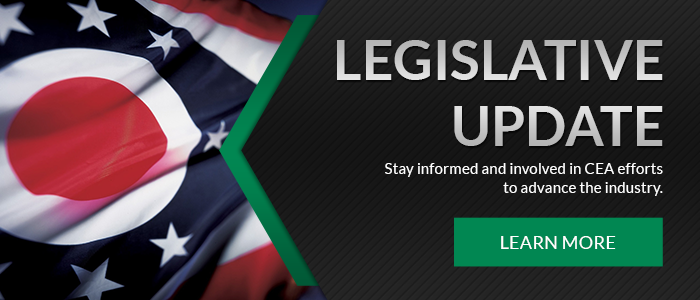 CEA Article May
Intro
Action at the Ohio Statehouse has been sporadic during the last month or so as the Legislature had two planned breaks, one for Easter and then one for primary elections. These breaks, along with the Ohio Speaker of the House resigning under a possible FBI investigation, resulted in fewer committee hearings and session days. The Legislature intends to start meeting again during the week of May 14th. One important item on the agenda will be the election of a new Speaker. If all goes well, this should take place on May 16th. The House and Senate will be back for business at least the next two weeks or as many as four weeks, before summer recess. CEA and its legislative team will be at the Statehouse for this remaining legislative action lobbying on issues important to the construction industry.
Elections Results
The table has been set for the November General Election as Ohio Attorney General Mike DeWine and his running mate and current Secretary of State Jon Husted on the Republican side will face Democrat Richard Cordray and Betty Sutton for Governor and Lieutenant Governor.
The Other Statewide Races will be:
State Treasurer - Rep. Robert Sprague (R ) vs Rob Richardson (D )
Attorney General – State Auditor Dave Yost (R ) vs Steve Dettelbach (D )
Secretary of State - Sen. Frank LaRose vs Rep. Kathleen Clyde (D )
Auditor – Rep. Keith Faber (R ) vs Zack Space (D )
Some local legislative primary races of interest:
Rep. Dave Greenspan (R ) prevailed over Monique Jonevieve Boyd for the Republican nomination for House District 16
Rep. Nickie Antonio (D ) prevailed over Rep. Martin Sweeney for the Democratic nomination for Ohio Senate District 23rd
Sen. Kenny Yuko (D) prevailed over Rep. John Barnes for the Democratic nomination for Ohio Senate District 25
Sen. Sandra Williams (D ) prevailed over three challengers for the Democratic nomination for Ohio Senate District 21
Sen. Michael Skindell (D ) prevailed over Tom Bullock for the Democratic nomination for House District 13
Rep. Kent Smith (D) prevailed over Cassandra McDonald for the Democratic nomination for House District 8
Regulatory Legislation
SB 170 Commercial Driver License (LaRose) was signed by the Governor on May 2nd. It provides regulatory relief for CDL drivers as it requires the Director of Public Safety to seek approval from the U.S. Federal Motor Carrier Safety Administration to implement a temporary pilot program regarding the waiver of the skills test for a commercial driver's license for military personnel.
SB 255 Occupational Licensing (McColley) Establishes a statewide policy on occupational regulation, requires standing committees of the General Assembly to periodically review occupational licensing boards regarding their sunset, and requires the Legislative Service Commission to perform assessments of occupational licensing bills and state regulation of occupations. This bill had a third hearing in the Senate Government Oversight and Reform Committee.
HB 583 Occupational Licensing (Henne) Limits the occupational license and registration requirements and fees that a political subdivision may impose on state-regulated occupations, establishes a waiver exempting certain persons from paying occupational license or registration fees, and to revises the licensing restrictions applicable to individuals convicted of criminal offenses. This bill was recently introduced and has not had a hearing. It was referred to the House Economic Development Commerce and Labor Committee.
Tax Review Committee Wraps Up Work
The Senate Tax Expenditure Review Committee, whose members include Senators Scott Oelslager, Senator John Eklund, and Vernon Sykes, heard testimony on various tax expenditures. The committee is chartered with reviewing all current tax expenditures at least once every eight years and making recommendations on whether each expenditure should be continued, modified, or repealed, or scheduled for further review at a later time. At the most recent hearing, the committee reviewed the sales and use tax exemption provided for building and construction materials and services sold to construction contractors for incorporation into certain types of structures. The exemption applies to structures built under a construction contract with the following entities: federal government; the State of Ohio and its political subdivisions; religious institutions and other organizations exempt from federal income tax under section 501(c)(3) of the Internal Revenue Code; businesses engaged in horticultural and livestock purposes; and certain other types of entities specified in state law. The exemption appears in Ohio Revised Code 5739.02(B)(13); originally enacted 1959 and revised 1994. There was testimony from Ohio Policy Matters about closing this and other tax exemptions. The committee will now look to possibly compile a report by July.