Legislative Update - October 2019
October 07, 2019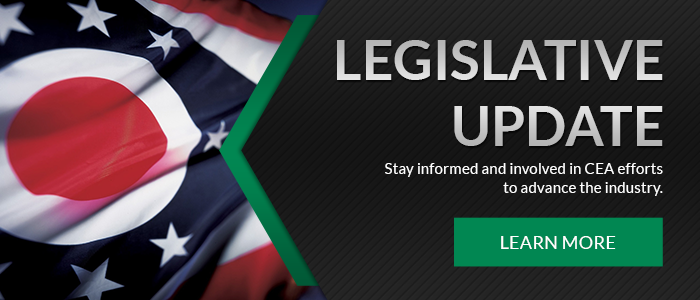 Cuyahoga County Budget
The County budget will start hearings this month.  The Executive will lay out his plans and agencies will then testify before County Council including the County Finance and Budgeting Committee and Committee of the Whole.  CEA and its lobbying team will continue to be involved as this process unfolds. 
Money Available For Employers - Ohio's New TechCred Program 
Businesses have the chance to upskill current and future employees to help them qualify for a better job in today's tech-infused economy. Businesses who submit successful applications will be reimbursed, up to $2,000 per credential, when current or prospective employees complete technology-focused credentials.   
Who Can Apply:  Any Ohio registered employer that employs Ohio resident W-2 employees is eligible to apply.  Businesses of all sizes and in all industries are encouraged to apply.  Only one application will be accepted per company. 
Reimbursements:  Will be to $2,000 per credential, with one reimbursement available per employee in each funding round.  Employers are eligible to receive up to $30,000 per funding round. Employers may be reimbursed for tuition, lab fees, manuals, textbooks and certification costs, up to $2,000 per credential. 
Application Period: October 1, 2019 to October 31, 2019
Demand will determine availability of funds and timeline for future open application periods. TechCred is a competitive, merit based program. 
What is covered: Industry-recognized
The term "industry-recognized" used with respect to a credential, means a credential that is sought or accepted by employers within the industry or sector involved as a recognized, preferred, or required credential for recruitment, screening, hiring, retention, or advancement purposes, and where appropriate, is endorsed by a nationally recognized trade association or organization representing a significant part of the industry sector. 
Technology-focused:
Technology credentials demonstrate the competencies necessary to succeed in an occupation that utilizes technology to develop, build, and deliver products and services. Technology credentials rely on science, technology, engineering and / or math related education, as well as technical skills, to benefit an employer dependent on the development, deployment and investment in new and emerging technology, including software development, advanced manufacturing, data analytics, cybersecurity, computer hardware and design, military applications and emerging fields. 
Providers:  Eligible training providers include community colleges, universities, technical centers, and private training providers. 
Website: https://techcred.ohio.gov
Manufacturing and Construction Credentials
Allen Bradley PLC
AutoCad Professional
AutoCad User
Autodesk Inventor Certified User Certification
CNC Programming
Certified Solid Works Associate (CSWA)
Certified Solid Works Professional (CSWP)
Electro-Mechanical Engineering Technology
Industrial Maintenance Technology 
Industrial Mechanics and Maintenance Technology
Industrial Technology 3D Printing
International Society of Automation (ISA) Certified Control System Technician (CCST)
WBE Program
The Department of Administrative Services continues to work on Woman-owned Business Enterprise Rules.  CEA is in touch with the Department as these rules make their way through the process. 
Firearm Legislation
Governor DeWine is set this week to give more details on his suggested reforms to gun laws.  His office has stated that he has worked with a number of interested parties on the proposal.  The Legislature will be watching intently to see if the reforms strike a balance.