Press Room
Please contact Tim Linville for all press inquiries, at (216) 398-9860 or tim@ceacisp.org.
News Releases
Rudolph Libbe Group Opens Fabrication Shop to Enhance Customer Service
NORTH RIDGEVILLE—Rudolph Libbe Group (RLG) has invested in the growth of its northeast Ohio-based business by adding in-house fabrication capabilities to its North Ridgeville, Ohio location on Mills Industrial Parkway.
"We are excited to add these capabilities for our customers," says Dave Boyer, general manager of RLG's northeast Ohio operations. "Renovating an existing building and adding staff and resources to meet our customer needs is a major step toward the long term success of RLG in NE Ohio."
The 17,000-square-feet shop is housed in a building formerly used for steel fabrication of racks for automotive supplies. Located directly across from the NE Ohio RLG offices, a complete renovation to the building was completed in July 2019. Ten employees currently work in the shop. Please visit RLGbuilds.com/fabrication-shop-north-ridgeville for photos.
"Equipment that is shop-fabricated is completed safer, faster, and more cost efficiently than on-site at customer locations, particularly when projects occur in facilities with on-going operations," Boyer adds.
"Our experienced staff works directly with customers' specifications to determine the most competitive, cost-effective methods for fabricating the required components on time and to their satisfaction."
ACE Alumni Spotlight: Bakari Ballard, Discovering Your True Passion Through ACE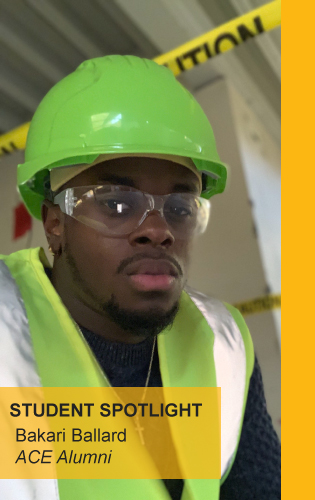 Current School: Kent State University
"ACE helped guide me through the process of knowing what I wanted to major in. First, I wanted to be an architect, then I thought I wanted to be an engineer. By the end of my ACE 11th grade year, I fell in love with construction and learned more about the business side of the industry, a sector I never even knew existed. Senior year I got really involved with the business of construction and was able to actively try it through ACE. If it wasn't for ACE I would have to learn all my likes and dislikes throughout college and I would be paying for each career shift. ACE exposed me to all the different avenues the construction industry has to offer. "
When Bakari Ballard joined the ACE Mentor Program at John Hay High School, like many high school students he was just beginning the intimidating task of choosing a career to pursue in college. The ACE Mentor Program is an after-school career pathways mentorship program that introduces high school students to the worlds of architecture, construction, and engineering through project-based learning from A/E/C industry professionals. After completing his first year in the program, Bakari found a passion for a career pathway he never knew existed before, Construction Management.
During his time in the program, Bakari was an engaged student committed to learning all he could from his future professional peers and mentors. Ultimately, at the conclusion of his senior year, Bakari was awarded the highest ranking student scholarship award, which would help cover the financial burden of college. Currently, Bakari is pursuing a B.S. in Construction Management and a Minor in Finance at Kent State University while completing an internship with Sodexo Roth.
Through leveraging connections from ACE and a fierce drive, Bakari was able to secure his internship at a leading company in the facilities management industry, providing HVAC/R, HVAC Construction, Roof Asset Management, Facility Automation, Command Center, and Energy Implementation Services. There, Bakari has had the chance to work on exciting projects such as University Main Campus' Helipad System, a project that will save lives.
In the future, Bakari would like to work for a construction company as a Project Engineer or Estimator. Growing up in a divorced home where he watched both parents struggle, he hopes to use his success to help others by creating a non-profit for low income housing.
Inspired by his time with ACE, Bakari is already giving back to the local community through volunteer work with Eric Gordon's Scholarship Board and the Cleveland Public School District.
Who inspires/motivates you?
My mom, she works hard as a home health aid and is the best. She has three kids and she has always put us first.
As someone who has participated in a mentorship program, how important do you feel mentorship is for personal and professional development?
Very important, personally it gave me someone to look up to and a role model. Having a mentor that is someone who pushes you to do better and go outside your comfort zone personally helped me so much. On the business side, it is great for networking, the mentors helped me develop skills such as interviewing and resume building. Personally, I recall Joe Digeronimo wrote a recommendation letter for the ACE scholarship which I won.
What advice would you give to someone considering getting involved in ACE for the first time?
As a student, stay involved and stay engaged, it is a fun program. You are only going to get out of it, what you put into it. You can meet people in the field and make connections so post-high school you will have opportunities for jobs and internships. Once I graduated, I knew 4 architects and 3 engineers and 3 people in the construction field. I felt comfortable asking them for opportunities.
A How-to Guide for Recruiting Millennials to Construction
By Darren Bounds, Construction Executive
Millennials are slowly taking over the workforce as baby boomers are exiting. By 2024, it is projected that three in four U.S. workers will be millennials. This is particularly impacting the construction industry, with more than 40% of the current construction workforce likely to be retired by 2031. This change is creating a labor gap that must be filled, but the problem is attracting millennial workers to the industry.
Pages