Press Room
Please contact Tim Linville for all press inquiries, at (216) 398-9860 or tim@ceacisp.org.
News Releases
'Retire? Not Me': HR and the Aging Workforce
Employers are unprepared for the needs of older workers.
The fastest-growing population of employees is the "older worker."
I know, I'm offended by the term, too, but the good news is I'm not alone: I have a lot of friends over 50 who plan to work for a long time.
By 2024, one in four U.S. workers will be 55 or older, more than double the rate from 1994, when 55-plus workers accounted for just 12% of the workforce, according to the U.S. Department of Labor.
Older workers often have a deep knowledge of their industry, long relationships with customers and a loyalty to their employer, all of which make them valuable employees.
The 2018 Willis Towers Watson Longer Working Careers Survey found that 83% of employers report a significant number of employees at or approaching retirement age. However, only a quarter of those employers feel they have found an effective approach for dealing with this inevitability.
Other research also shows a lack of employer urgency to develop strategies to accommodate older workers. The Society for Human Resource Management found 35% of U.S. companies have analyzed the near-term impact of the departure of older workers and only 17% have considered longer-term implications over the next decade.
The lack of a strategy to address the needs of older workers may stem from employer perceptions about employees. According to our research, just one in five employers think their employees want to retire as soon as they qualify for retirement benefits, and 77% expect most of their employees won't need to work into their 70s for financial reasons.
On the flip side, the same survey found that 55% of employees want to retire as soon as they can afford retirement, and more than a third expect to retire after age 70 for financial reasons.
When older workers delay retirement, employers face financial challenges such as higher benefit, wage and salary costs. However, when we asked companies what worried them the most about the aging workforce, we found that transfer of knowledge and workforce productivity were greater concerns than financial costs, which ranked third.
While employers may not have plans to address the issues of older workers, researchers are offering innovative ideas to address some of the costs.
Linda Fried, dean of the Mailman School of Public Health at Columbia University, has proposed changing Medicare's rules to accept older workers, allowing them to shift away from employer health plans. Other researchers have proposed incentivizing employers by creating a 40-year cap on the total years of work requiring payroll tax contributions to Social Security.
With reforms of Medicare and Social Security unlikely, employers need to create strategies to address their growing population of older workers. Approaches to consider include:
Offering phased retirement programs
Creating flexible employment options like shorter work weeks, part-time employment or even part-year employment
Engaging former employees as contingent workers or consultants
Providing workplace training programs for older workers
Establishing reverse-mentoring programs for knowledge transfer
The Longer Working Careers Survey found many older workers are enthusiastic to downshift management positions and start working as individual contributors, but only 9% of firms in the survey offer phased retirement.
With nearly 18% of people in Northeast Ohio at age 65 and older, according to the Census Bureau, local employers have a real opportunity to embrace the aging workforce and be early adopters of progressive policies and innovative ideas. Let's not miss this chance.
CEF Concerned That Ohio's Political Leaders Want Tax Payers to Finance Nuclear Plants
This article was written by a staff reporter for The Vindicator.
Construction of a $925 million clean-energy power plant in Lordstown should begin this summer, according to a press release issued today from Clean Energy Future, the project's developer. The center is projected to have a $26 billion long-term economic impact on the Mahoning Valley economy and local and state governments, CEF projects. There are newspaper articles and Twitter messages suggesting that certain political leaders support sustaining bankrupt nuclear plants. Such support would seek to create a new law that would force Ohioans to "bail out" privately-owned uneconomical nuclear plants in Ohio."
ACE Alumni Spotlight: TyJuan Swanson, Community Activist, Future Architect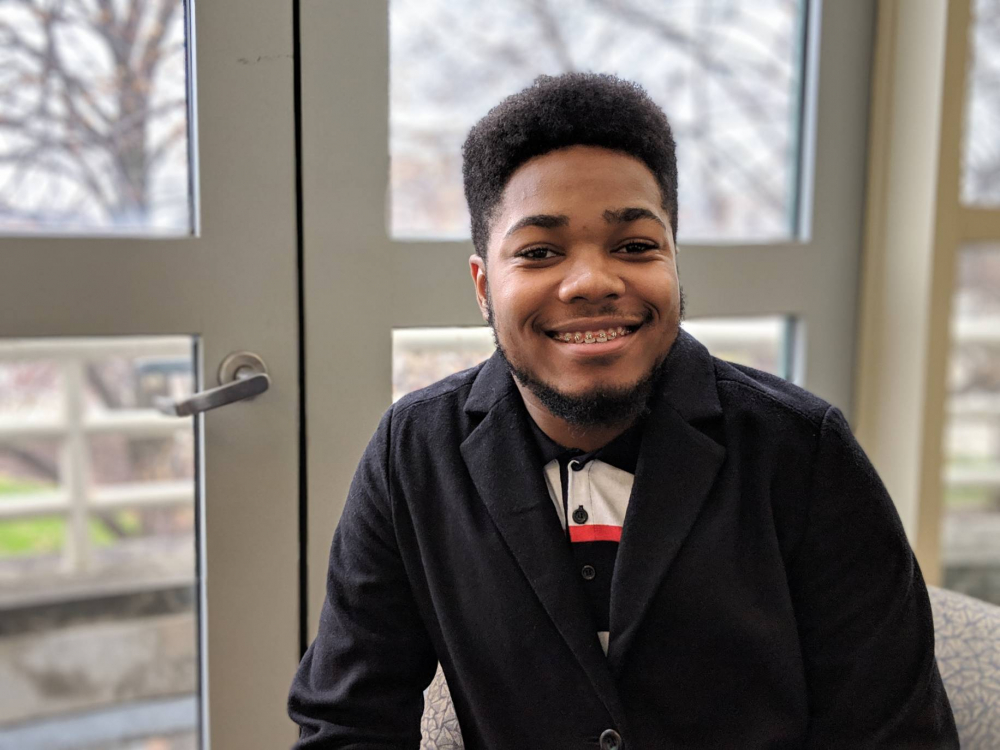 Follow your dreams, I followed mine. ACE has definitely helped me towards my career goals in every positive way I can think of. I can't even really explain. There are no words to express how supportive the program has been for me." - TyJuan Swanson, ACE Student Alumni
TyJuan Swanson's passion for architecture is evident from the moment you speak to him, so when he became a junior at John Hay's Cleveland School of Architecture & Design it was no surprise that his teachers recommend he join the ACE Mentor Program. Today TyJuan is a senior at Kent State University majoring in architecture thanks in part to scholarships provided by ACE, and largely due to his hard work ethic and drive to set a positive example for his family.
Last summer TyJuan spent his time interning with ACE sponsor, Then Design Architecture, a firm who is dedicated to creating spaces that have a positive impact on people. With a vision to change the world with community-driven design, TyJuan was the perfect candidate for the position. Through relationships and knowledge built in the ACE Mentor Program, TyJuan was able to leverage his work ethic and passion to move him closer to his personal and professional goals.
As a student who understands the power of mentorship by his experiences with ACE, TyJuan is already making strides to give back to his community by mentoring fellow students. TyJuan is currently a mentor for Kupita Transiciones, a program that encourages seniors to take a mentorship role in the lives of incoming freshman that are from a similar background as his own.
TyJuan's future aspirations are to change communities by way of impactful designs and to one day himself enrich the life of an ACE student, much like himself.
Here's a few interview questions:
Who would you say inspires or motivates you?
My dad the most. Since I was a kid he's always told me to go for what I want and to be mindful of my decisions. He's basically shaped the person that I am. Of course, you know, I've gone the extra mile to do the things that I do but he set the foundation and groundwork.
How do you see yourself giving back to the community in your current or future endeavors?
Currently, simply mentoring is the most I can do with how strenuous my education is right now. But in the future, I'd love to give back monetarily to organizations. And to design to best purpose people. Buildings are for people, and I want to make it less about aesthetic and more about function and programming and making sure it works to benefit people.
Did you discover anything new about your professional aspirations while in the ACE program?
Yes, when I was there just learning about the programs I would eventually use in my career like AutoCAD and Revit. That was cool. Learning about the tract towards becoming an architect. I had a mentor layout for me what the course tract looked like for my desired career. It was great to just be informed and made me want to do it more.
What would you tell a student about the ACE program to get them involved?
That it's a great opportunity to simply just network. Even if you're not wanting to pursue a career in the AEC industry, these fields very much impact everyone's lives. So it doesn't hurt to know if that's an opportunity that can be had. But if you are pursuing a career in the AEC industry most definitely get involved. For me, it's one of the best thing I've ever done for my future. Being in ACE allowed me to learn so much about my career before even going to college. Simply just having a mentor to help you with pursuing your career is great. It's an all around great program.
Pages