Press Room
Please contact Tim Linville for all press inquiries, at (216) 398-9860 or tim@ceacisp.org.
News Releases
Virginia Contractor Faces Proposed $304K for Silica Violations
As reported by Kim Slowey (Construction Dive)
The agency issued highway construction company Lanford Brothers Co. violation citations for not ensuring employees doing concrete work on a bridge wore the proper eyewear...
SBA Announces Decrease in Surety Bond Guarantee Fees
September 04, 2018 press release from U.S. Small Business Administration
The U.S. Small Business Administration announces the first fee decrease in Surety Bond Guarantees in 12 years."
BeSafeOhio - Pedestrian and Back To School Safety
The safety of pedestrians, kids in school zones and those getting on and off school buses is everyone's responsibility, whether traveling to and from work or while on-the-clock.
School is back in session. Be patient, be aware and don't drive distracted.
As part of BWC's BeSafeOhio campaign we are sharing resources, in this case a blog and radio program, to emphasize the importance of awareness and prevention. Please consider sharing these messages with your workforce.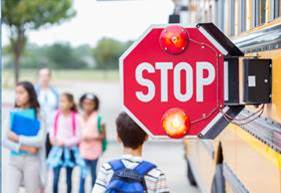 Pages