FIT Testing Services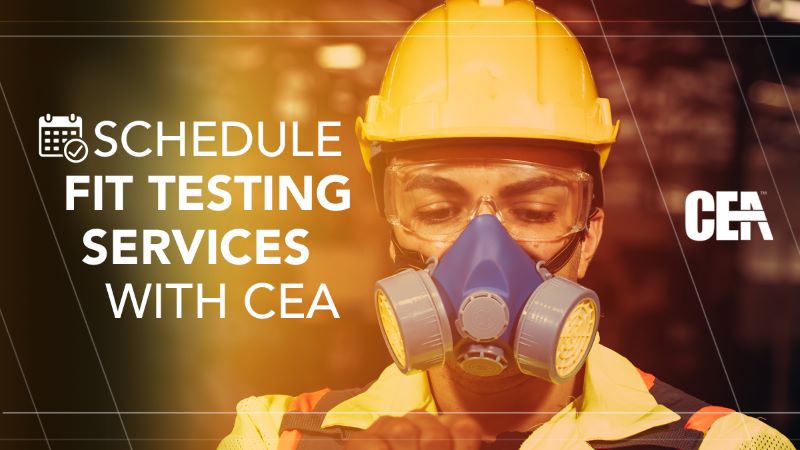 Quantitative FIT Test for Respiratory Protection You Can Trust
Abandon the tedious and ambiguous qualitative respirator fit test methods such as Saccharin and Bitrex and have peace of mind knowing that you can trust your fit test results. Passing a quantitative fit test proves that the facepiece is sized correctly and the person knows how to put it on correctly. The PortaCount Respirator Fit Testers offer:
Faster fit testing, real-time feedback
Enhanced training with real time fit factor
Objective fit testing, eliminating the guesswork
FIT Test All Types of Respirators
CEA utilizes the TSI PortaCount Pro+ that is designed to fit test all types of respirators and masks, including an N95 respirator. The PortaCount Pro+  is the only instrument with built-in N95 technology to perform a quantitative fit test on an N95 respirator.  The PortaCount Pro+  is OSHA-compliant for all respirators.
Disposable filtering-facepiece fit testing (series 100, 99, 95, P1, P2) 
Half-mask fit testing 
Full-face fit testing 
How to Get Started
For $150 per member company, CEA will FIT test your employees each year. CISP contributors can receive this service for $250 per year. Non-members can have their employees FIT tested for $90 per person. 
CEA Member / CISP Contributor Payment
To schedule your FIT test, fill out the following form for each employee (first three lines only, including: employee name, company, and last 4 digits of employee SSN#). 
Second, employees must complete the OSHA Respirator Medical Evaluation Questionnaire and have it reviewed by an occupational physician prior to scheduling the FIT test.
Medical Evaluation Questionaire
Email the FIT test forms, type of respirators that will be issued to the employee and medical evaluation approval to Kent Crytzer ([email protected]) prior to scheduling a FIT testing appointment.