Legislative Achievements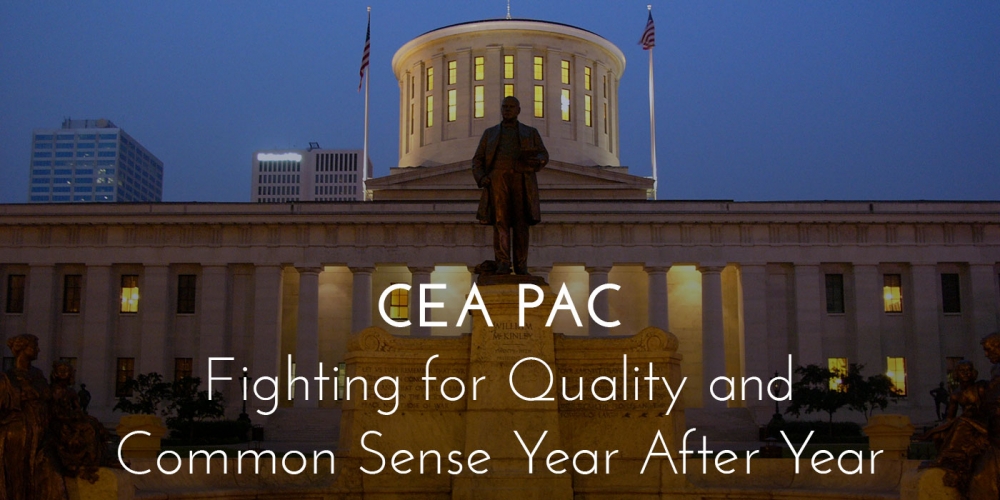 CEA advocacy has been making a real difference, thanks in large part to our members' PAC contributions and activism.
Some of our legislative advocacy achievements include:
131st General Assembly 
BWC Relief
Supported legislation to allow a state fund employer to have a workers' compensation claim that is likely to be subrogated by a third party paid from the surplus fund account in the state insurance fund, rather than charged to the employer's experience.  The bill pertains to certain circumstances when a claim is based on a motor vehicle accident involving a third party.
Medical Marijuana
Maintained strong employer protections regarding Medical Marijuana
Cuyahoga Small Business Enterprise Program
Backed concepts for Public Works to clarify parameters that will be used to identify contracts which will use set asides and establishment of a yearly report of SBE programs starting in 2017.
Cuyahoga County Performance Bond and Insurance Requirements
Promoted language to create Reserve Coverage for Performance Bond Waivers and to have Council review this during the budget process (Backstop provision)
Added a Diversity and Inclusion Advisory Committee to the legislation with CEA as a member
Community Benefits Memoramdum of Understanding
CEA presented a letter of support for the County's plan to endorse the existing CBA MOU between the City of Cleveland, CEA, the Building Trades, and others.
129th General Assembly
Prevailing Wage 
Maintained coverage of public college and university construction
Restored interested party enforcement language
Maintained a separate threshold for renovation work
Dramatically reduced the threshold for renovation work from $5M to $38,000 in 2011, $60,000 in 2012 and $75,000 in 2013
Reverse Auction, Construction Reform
Successfully opposed reverse auction bill
Obtained construction reform with surety bonding protections
Workers' Compensation
Secured appointment of CEA representative on BWC Interstate Jurisdiction Workgroup
128th General Assembly
Workers' Compensation
Secured appointment of Labor representative on BWC Privatization Study Committee
Testified for and obtained temporary EMR construction industry cap to insulate contractors from BWC rules changes
127th General Assembly
Transportation Improvement Districts (TIDs)
Secured amendment of legislation that requires that a construction project carried out by a TID be subject to normal prevailing wage and competitive bidding requirements
Workers' Compensation
Secured language requiring the BWC to adopt a more transparent rating system
Secured removal of language banning modification of Drug Free Workplace programs
Ohio School Facilities Commission
Successfully resisted amendment exempting school construction projects from paying prevailing wage
Successfully supported resolution eliminating rules that blocked payment of prevailing wage for school construction
Successfully supported responsible bidder requirements
126th General Assembly
Prevailing Wage
Defeated legislation banning interested party enforcement of prevailing wage
Defeated legislation local schools' ability to decide on paying prevailing wage
Defeated legislation that would have completely repealed prevailing wage
Transportation Improvement Districts
Supported amendment calling for expiration of TIDs, which are normally exempt from prevailing wage
Department of Administrative Services
Secured legislation giving contractors more time and notice prior to DAS claiming contractors' funds in escrow
Drug Free Workplace
Led effort to pass law requiring that construction projects receiving state money institute a drug free workplace program
125th General Assembly
Tort Reform
Advocated for and helped pass tort reform law
Highway Funding
Secured language providing more funding for highway projects
Federal
Advocated for full funding of the Highway Trust Fund (2008)
County
Supported the addition of Responsible Bidder Criteria, Equity language, and general construction delivery language to the Cuyahoga County Contracting Ordinances
Help Us Make a Difference
Support our continued efforts to advocate on behalf of the Ohio Construction Industry. Donate to our PAC today.